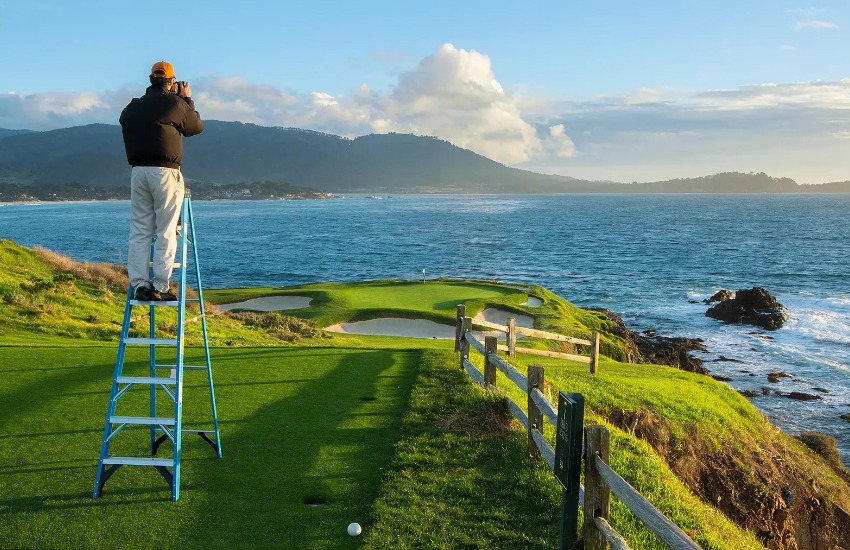 Some people scroll through social media to pass the time. Some catch up on the latest news. And while we love pet videos just as much as the next person, our thumbs always stop scrolling when we come across an incredible photograph of a golf course. And if you've ever found yourself drooling over an image of the towering cliffs at Cabot Links or the turquoise waters splashing the fairways at Punta Espada, it likely came from the lens of Evan Schiller.
For those unfamiliar with his name, Evan Schiller is one of the world's top golf photographers. He's visited more than 600 championship golf courses from Pebble Beach Golf Links to the Old Course at St. Andrews and every extraordinary fairway in between.
We can all agree there are several courses around the world where you reach for your camera before your club. And for Evan Schiller, that's exactly how he got into golf photography.
Schiller developed a passion for golf at a young age and eventually pursued a career as a golf professional. He played in hundreds of professional tournaments around the world including the U.S. Open. After playing the California Open at Mission Hills in Rancho Mirage, Schiller took a local up on their suggestion to head down to the road to play Pete Dye's newly designed Stadium Course at PGA West. It was here his imagination caught a glimpse of what the next two decades could hold for him.
Schiller was so impressed by how the Stadium Course's design fused with the natural desert-scape against the backdrop of the San Jacinto Mountains that he purchased a 35mm camera to take with him on his future golf trips.
Armed with his new camera and newfound passion, Schiller quickly discovered he had an instinctive talent for photography and an innate ability to capture courses in a way that truly brought them to life – with no formal training.
He learned that photography is quite possibly the only language that expresses itself without the use of words. Instead, it elicits memories, evokes emotion, and can make an otherwise fleeting moment everlasting. It's truly an art. And with that in mind, Schiller thoughtfully scouts each location to find the best vantage points, he uses "natural light as his paintbrush," and he transforms golf courses from simply a venue to a real thing of beauty.
His work has graced the pages of The US Open Magazine, The Ryder Cup Journal, LINKS Magazine, Golf Digest, Golf Magazine, and more. And his talents have taken him to courses across the United States, Canada, Mexico, the Caribbean, Ireland, Scotland, South Africa, and Japan. 
Keep in mind, his photography is also available for purchase on his website. Prints come in a variety of sizes and in an array of mediums including metal, canvas, and more.
Some of his favorite clients thus far include Royal County Down, Moonlight Basin, Pebble Beach, and Bandon Dunes – where he captured his now favorite image during a misty morning along the rocky bluffs of Oregon's Pacific Coast.
With so much traveling, Schiller has put some serious mileage on his luggage and other equipment. So as one of the most experienced golf travelers, we had to ask, "What's the most difficult part about traveling?" To that, Schiller replied, "It's just a lot to lug around. I have cameras, a drone, a computer, and numerous batteries for the drone as well as external hard drives that I have to take on each trip."
Not to mention he also has to drag his own luggage to and from the airport and occasionally his golf clubs when his schedule allows for a round or two. Naturally, that's where Ship Sticks comes in.
But on the topic of schedules, and unbeknownst to most, the life of a golf photographer isn't all fun and games. While Schiller recognizes his great fortune in traveling to the world's most beloved golf courses, doing so, and at his level, requires a demanding schedule. 
"Most of the shoots I do are very involved and time-consuming," Schiller said. He often meets with the golf course superintendent long before he arrives at the course as it's imperative to confirm that aeration or other forms of course maintenance don't interfere with the shoot itself.
He continues to work closely with the superintendent throughout each shoot and coordinates his daily schedule with the grounds crew to ensure bunkers are raked, fairways mowed, and any other tasks have been completed to keep the course looking its best. 
After waking up before sunrise to capture the golf course in its morning light, Schiller heads back to his hotel to recharge the batteries. Literally. As Schiller's cameras recharge for about three hours, he beings downloading images and sifting through the assortment to ensure everything looks up to par – pun intended!
And once those batteries are fully charged, he's back at it again.
"By the time I do all this, it's close to the time I have to head back to the course to shoot for the afternoon," Schiller said. "When I'm on location, I spend the majority of my time at the golf course capturing it in all different lights, from all different angles. Then at night, I'm back to sorting through the photographs and videos from the day."
And after that?
"I'm off to the next shoot."
Needless to say, Schiller is a hot commodity in the golf photography industry and the demand for his talent keeps him on the move.
But, life looked quite different before the age of digital cameras. "Back when I shot with film I'd have to wait till I returned home to get hundreds of rolls of film developed and it was only then that I knew if I'd actually captured a great shot," Schiller recalled. "Digitalization makes for a busier day but with that comes practically instant gratification."
It takes about two to three weeks for his clients to receive the finished product which includes impeccably edited and retouched images and drone footage. Some of which can be viewed across his social media handles: Instagram, Twitter, Facebook, and YouTube.
If you're impressed by these jaw-dropping images, you can peruse dozens more on Schiller's website. They make for a perfect Father's Day gift or an excellent addition to the wall of your office. Some of his stunning drone videos are also available for your own viewing pleasure.