2018 was a busy year for golfers traveling to new destinations. With long wait times and flight delays, golfers across the globe felt the woes of airline travel. Golfers this year felt a new level of frustration when their golf clubs failed to arrive at their final destination. Some of them had to rent clubs, while others had to withdraw from their tournaments.
Here are some of the top incidents where the airlines dropped the ball in 2018.
Graeme McDowell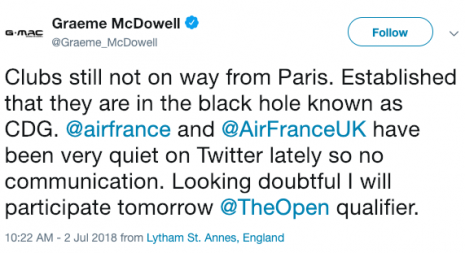 Starting our list is pro golfer Graeme McDowell. Luck was not in his favor when he flew from Paris to Manchester England. Air France left his golf clubs behind at Charles De Gaulle Airport when flying to St Annes Golf Club. For an hour and 45-minute flight, you would assume the clubs could make it. Ultimately, they didn't and he had to withdraw from the Open qualifier. Air France eventually found his clubs a few days later and sent them to his next event in Dublin.
Jhonattan Vegas

Jhonattan Vegas had an opportunity to play the Open Championship at the Carnoustie Golf Links in Scotland. His trip from Houston to Scotland had a few bumps on the road, but he was able to take his flight. The only thing that was missing was his golf clubs. All of his bags made it, except for his clubs. Needless to say, Jhonattan was really in a bind. Thankfully, his sponsors were able to fit him with a new set of clubs for the tournament.
In-Kyung Kim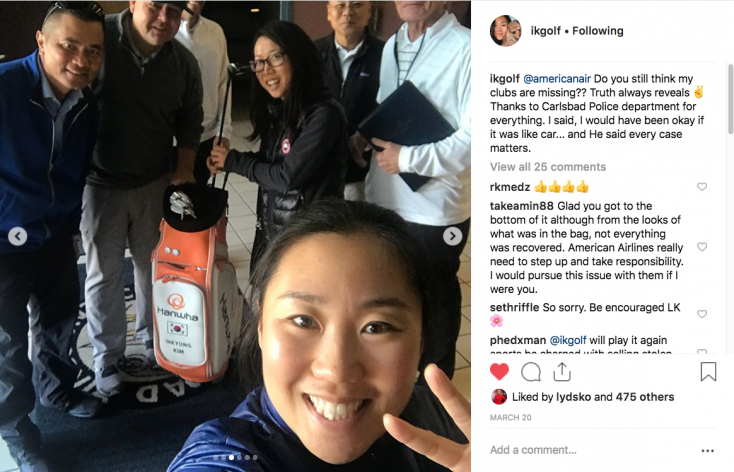 In-Kyung Kim, the seventh-ranked women's player in the world, has quite the story about her missing clubs. She took an American Airlines flight in January where they mishandled her bags. The airline suggested she rent a set of golf clubs, but Kim's bag had a few clubs that were no longer in production. A few weeks later, Kim shot a segment called "What's in my bag?" and caught the attention of a few San Diego golfers. These golfers found her clubs at a Play It Again Sports store in California. The price tag on her unique clubs were only $60 each. She was able to get her clubs back before anyone bought them.
Thorbjorn Olesen

It's bad enough when a golfer loses their clubs on a flight, it's worse when it happens twice. British Airways somehow managed to lose 5 suitcases and 2 sets of clubs in 10 days for Thorbjorn Olesen. After the first missing clubs incident, he decided to send his emergency set of clubs. Within that 10 day span, British Airways lost both sets. For an airline to lose two sets of clubs for the same golfer is truly remarkable.
John Daly

The tweet says it all. Legendary golfer John Daly is no stranger to having an airline lose his clubs. In 2016 American Airlines lost his bags before the Qatar Masters. This time around, Aer Lingus lost his clubs on both trips. Airlines lose bags all the time, but it's impressive for it to happen twice. If there is one thing to know about John Daly, it's to not get on his bad side. One take away these golfers have is that they'll have a funny story to tell for years to come.
Next time when they travel, they'll hopefully ship their clubs with Ship Sticks. With an on-time guarantee and door-to-door service, there's no issue with clubs arriving on time. All it takes is four easy steps to tee-off at the next destination.