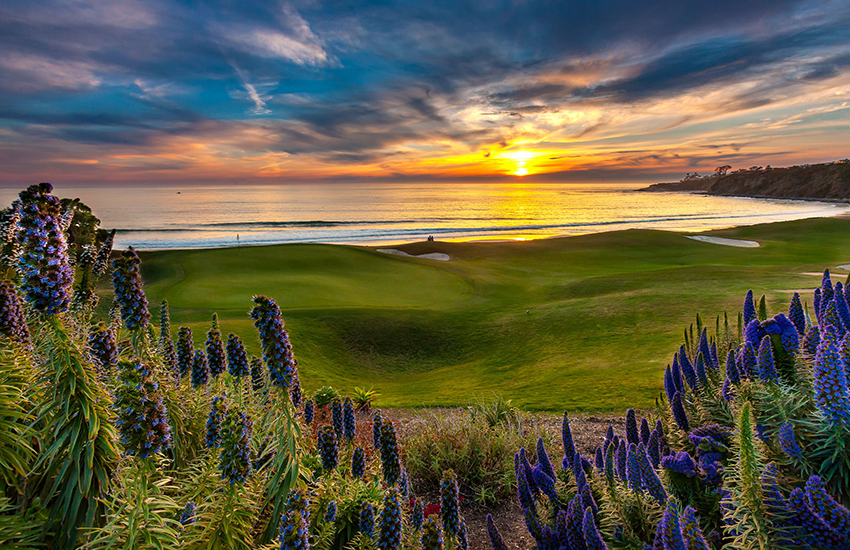 Spring and summer are great for golf, don't get us wrong. But, there's just something extra special about teeing it up in the closing months of the year. While you may have to travel south to escape the cold, those end-of-year golf trips are sure to deliver great course conditions, comfortable temperatures, beautiful scenery, and so much more. Without further ado, these are the best fall and winter golf trips to take this year.
Fall & Winter Golf Trips
1. Omni Barton Creek Resort
Austin, Texas
They say everything is bigger in Texas. And golf is no exception! Especially at Omni Barton Creek Resort, home to four world-class golf courses. From rolling hills and meandering streams to challenging layouts and immaculately contoured greens, the resort's four courses truly offer a little bit of everything.
2. Bandon Dunes Golf Resort
Bandon, Oregon
Few settings compare to those at Bandon Dunes where incredible golf is played atop towering cliffs 100 feet above the Pacific Ocean. The resort boasts a total of six golf courses, including one short course, that all blend in beautifully with the natural environment.
3. Streamsong Resort
Bowling Green, Florida
Streamsong Resort has long been regarded as one of the best destinations for fall or winter golf trips. This is, in part, thanks to the notorious Florida weather providing comfortable year-round temperatures, but also due to the fact that Streamsong is home to three stellar golf courses: Streamsong Red, Streamsong Blue, and Streamsong Black.
4. World Golf Village
St. Augustine, Florida
Travel just northeast of Streamsong Resort and you'll reach another one of our favorite spots for fall and winter golf trips: World Golf Village. It's the ultimate golf destination with two championship golf courses, the King & Bear and Slammer & Squire, and the World Golf Hall of Fame.
5. Pinehurst Resort
Pinehurst, North Carolina
The sandhills of North Carolina serve up some extraordinary golf courses like Tobacco Road, Southern Pines, and more. But, the area is most known for the nine golf courses at Pinehurst Resort. The most famous of the nine courses are No. 2, the site of several professional golf tournaments, No. 4, and the Cradle – their thrilling par-3 course.
6. Pine Needles Lodge & Golf Club
Southern Pines, North Carolina
Just a short drive from Pinehurst Resort is another Carolina gem: Pine Needles. The course was designed by Donald Ross in 1927 and has since been restored in 2017 by Kyle Franz. Most recently, Pine Needles hosted the 77th edition of the U.S. Women's Open.
7. Wild Dunes Golf Resort
Isle of Palms, South Carolina
From the mountains to the beaches, South Carolina is known for its wide variety of golf courses. You'll find some of the best ones right along the coast, including those at Wild Dunes Golf Resort. The resort has two golf courses, the Links Course and the Harbor Course, both designed by Tom Fazio and both open to the public.
8. Kiawah Island Golf Resort
Kiawah Island, South Carolina
Kiawah Island Golf Resort is a place that's hard to leave after spending a few days on the beaches, the links, or at any of the luxurious accommodations. The resort offers five award-winning golf courses including Cougar Point, Turtle Point, Oak Point, Osprey Point, and the infamous Pete Dye-designed Ocean Course – site of the 1991 Ryder Cup, the 2012 and 2021 PGA Championships, and more.
9. The Sea Pines Resort
Hilton Head Island, South Carolina
Golf on the Carolina coast just keeps getting better and better at The Sea Pines Resort. It's considered one of the most popular destinations for winter golf trips and offers the perfect combination of top-tier golf among that beautiful Lowcountry landscape. Play three courses on your visit to Sea Pines including Heron Point, Atlantic Dunes, and Harbour Town Golf Links – host of the RBC Heritage, the state's only PGA TOUR event.
10. Palmetto Dunes Oceanfront Resort
Hilton Head Island, South Carolina
Just a 10-minute drive from The Sea Pines Resort will have you teeing it up at another premier golf destination: Palmetto Dunes Oceanfront Resort. The resort's three golf courses meander through coastal wetlands, towering oaks, and you'll even catch a few glimpses of the beach.
11. Monarch Beach Golf Links
Dana Point, California
With average highs right around 70 degrees and sweeping views of the Pacific Ocean, staying and playing at Monarch Beach Golf Links will truly be the vacation you've been dreaming of. The resort's par-70 championship golf course is best enjoyed while riding a Golf Board or Phat Scooter!
12. Barefoot Resort and Golf
North Myrtle Beach, South Carolina
Myrtle Beach is largely regarded as the "Golf Capital of the World!" And Barefoot Resort and Golf is certainly one of the reasons why the Myrtle Beach area is such a hotspot for fall and winter golf trips. Not only does the resort boast a fabulous collection of four golf courses, but it also hosted Golf Channel's popular television show "BIG BREAK Myrtle Beach."
13. Hammock Beach Golf Resort & Spa
Palm Coast, Florida
Nestled along the pristine Atlantic Coast is the beautiful Hammock Beach Golf Resort & Spa. The resort offers two signature golf courses with oceanfront views including Jack Nicklaus's Ocean Course and Tom Watson's Conservatory Course. They've also been named two of the 'Best Courses You Can Play in Florida' by Golfweek Magazine.
14. Reynolds Lake Oconee
Greensboro, Georgia
Make your fall and winter golf trip the best one yet with a visit to Reynolds Lake Oconee home to six different golf courses. That's right…six! The award-winning golf courses were designed by some of the greats including Bob Cupp, Jim Engh, Rees Jones, Tom Fazio, and Jack Nicklaus. From lakefront fairways to beautifully contoured greens, Reynolds Lake delivers across the board.
15. Paako Ridge Golf Club
Sandia Park, New Mexico
Paako Ridge Golf Club is New Mexico's premier golf destination. It offers a truly impressive collection of 27 holes at an altitude of 6,500 feet and was ranked as the state's best golf course by Golfweek. It's conveniently located near Albuquerque and Santa Fe for plenty of fun off the golf course, too.
16. Reunion Resort & Golf Club
Kissimmee, Florida
Located in central Florida just south of Orlando is one of the best locations for your fall and winter golf trips. Reunion Resort & Golf Club is the only destination in the world where you can experience three incredible designs by the legendary Jack Nicklaus, Arnold Palmer, and Tom Watson.
17. PGA National Resort & Spa
Palm Beach Gardens, Florida
Golf in South Florida doesn't get much better than at PGA National Resort & Spa. The resort recently opened the Staple, a nine-hole short course, that joins PGA National's six other golf courses.
18. Trump National Doral Golf Club
Miami, Florida
There's a high standard of excellence at Trump National Doral Golf Club and the world-class experience begins on the golf course. Doral boasts four different designs including the Red Tiger, Golden Palm, Silver Fox, and the Blue Monster – the most famous of the four. The resort was also recently named the host of the 2022 LIV Golf Team Championship.
19. JW Marriott Miami Turnberry Resort & Spa
Aventura, Florida
From elegant accommodations and world-class amenities to two legendary golf courses, it doesn't get much better than the JW Marriott Miami Turnberry Resort & Spa. It's conveniently located near Fort Lauderdale Airport so you can hop off the plane, slip on your spikes, and tee it up on the resort's two golf courses: The Miller and The Soffer.
20. Walt Disney World Golf
Lake Buena Vista, Florida
Walt Disney World isn't all just theme parks and children's attractions! There's plenty for the adults to enjoy, too, including Walt Disney World's four pristine golf courses: Disney's Palm Golf Course, Disney's Magnolia Golf Course, Disney's Lake Buena Vista Golf Course, and Disney's Oak Trail Golf Course.
21. Innisbrook Golf and Spa Resort
Palm Harbor, Florida
Home to the PGA TOUR's Valspar Championship, Innisbrook is a premier destination for those upcoming fall and winter golf trips. Trade in the cold for the sunny blue skies and warm temperatures at Innisbrook's four championship courses, including the famous Copperhead Course.
22. Silverado Resort & Spa
Napa, California
Few destinations compare to the natural beauty of Napa Valley. And even fewer compare to the wonderful golf and accommodations at Silverado Resort & Spa in the heart of wine country. The resort's two courses were recently redesigned by Johnny Miller, PGA Hall-of-Famer and owner. And because access to the golf courses is limited to members and resort guests, you're sure to enjoy a quiet and secluded day on the links.
These fall and winter golf trips await you! Travel there stress-free and bag-free when you ship your golf clubs and luggage ahead. Learn more about shipping ahead with Ship Sticks or get a free quote today.