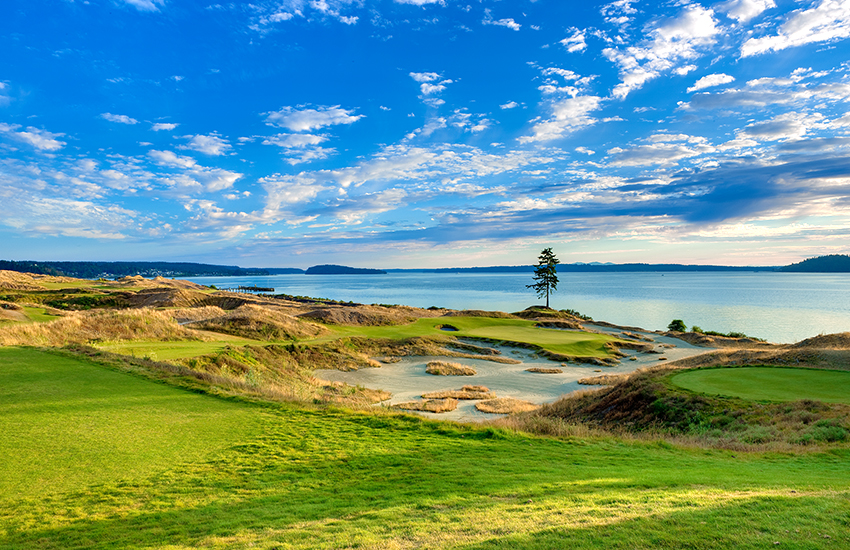 Ahh, summer golf. From dew sweeping in the morning to squeezing in one more 9 before nightfall, there's just something special about teeing it up in the summer. Still searching for the perfect summer golf destination? Our selection of top golf resorts includes world-class designs, unmatched conditions, and some of the nation's most stunning scenery.
Consider Your Summer Golf Trip Planned!
1. BOYNE Golf
Harbor Springs, Michigan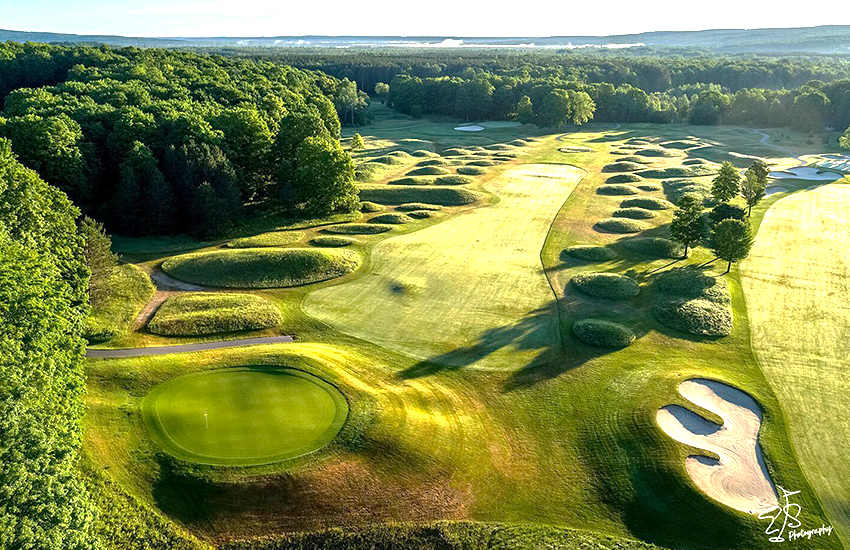 If you need that final push to convince your family or buddies to make the trip to BOYNE Golf this summer, we have several reasons ready for you.
BOYNE boasts 10 of Michigan's most magnificent golf courses including wetland, woodland, and links designs. Enjoy extended summer fun on their new TrackMan Range. Challenge your friends to three exciting games including Hit It! (long drive), Bullseye (target practice), and Capture the Flag (aim better than your friends to steal their flags!).
But, BOYNE isn't just a premier golf destination. The resort also offers a wide array of dining options, including The Links Grille at Bay Harbor Golf Club with jaw-dropping views of Lake Michigan. Beaches, boating, and biking await you as well on your summer golf trip to BOYNE.
2. Gamble Sands Golf Resort
Brewster, Washington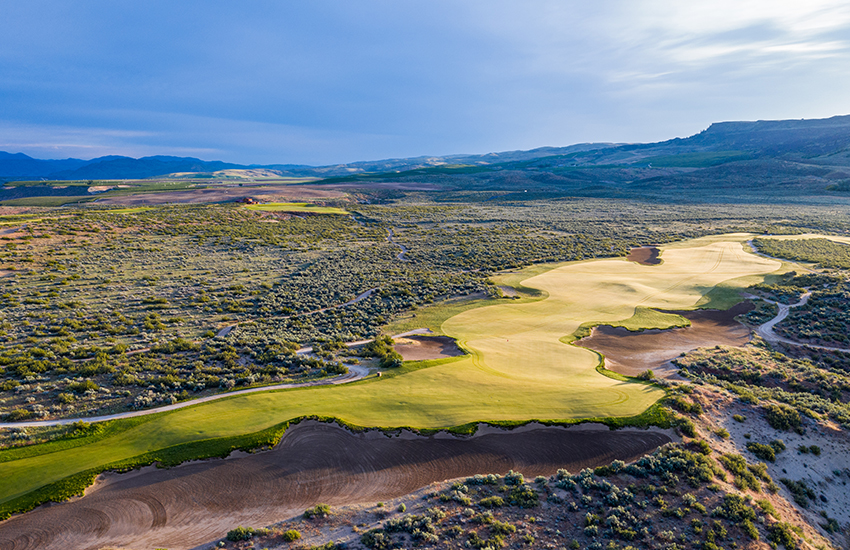 With the recent opening of QuickSands short course, Gamble Sands' newest addition, golfers have yet another reason to travel westward for their summer golf vacation.
Built upon a beautiful, 25-acre plot of dunes, QuickSands challenges players with holes from 60 to 160 yards all met with magnificently contoured greens. Hole names include Crater, Donut, and Boomerang – an indication of the fun and casual atmosphere players can expect to enjoy.
Ready to pull out the driver, instead? The Sands course at Gamble Sands offers an authentic links design set in the high desert of Washington. Wide fairways are lined with sandy soil and fescue grasses, highlighted by the par-4, 2nd hole with stunning views of the Columbia River.
3. The Prairie Club
Valentine, Nebraska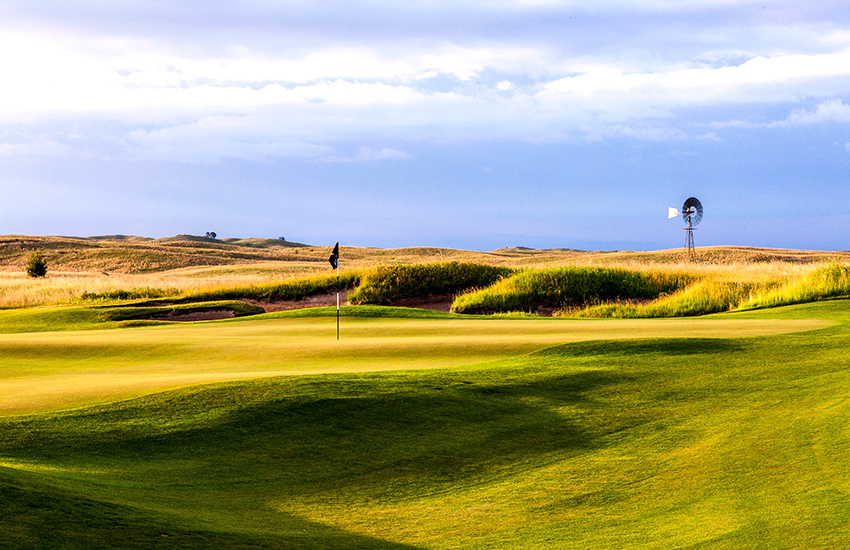 You've heard of the Sandhills of North Carolina, home to the world-famous Pinehurst Resort. But, the lesser-known Sandhills of Nebraska have something entirely different, and equally as special in-store for your summer golf trip. 
The unspoiled landscape of northern Nebraska was the perfect canvas for an array of golf course designers to create the three award-winning layouts at the Prairie Club: the Dunes Course, the Pine Courses, and the Horse Course. All diverse in design, visitors to the Prairie Club have difficulty picking just one favorite. 
The Dunes Course (Nebraska's own slice of Scotland) offers stunning visual similarities to links courses with few trees and fescue-lined fairways. In stark contrast, The Pines Course draws comparisons to parkland courses thanks to its classic design and pine-lined fairways. 
The Horse Course, a 10-hole short course, is a reimagined version of playing "H.O.R.S.E." on the basketball court. The course requires some serious shotmaking and a healthy dose of competitiveness. There are no tee boxes, so whoever won the previous hole gets to call the next shot.
4. Silverado Resort
Napa, California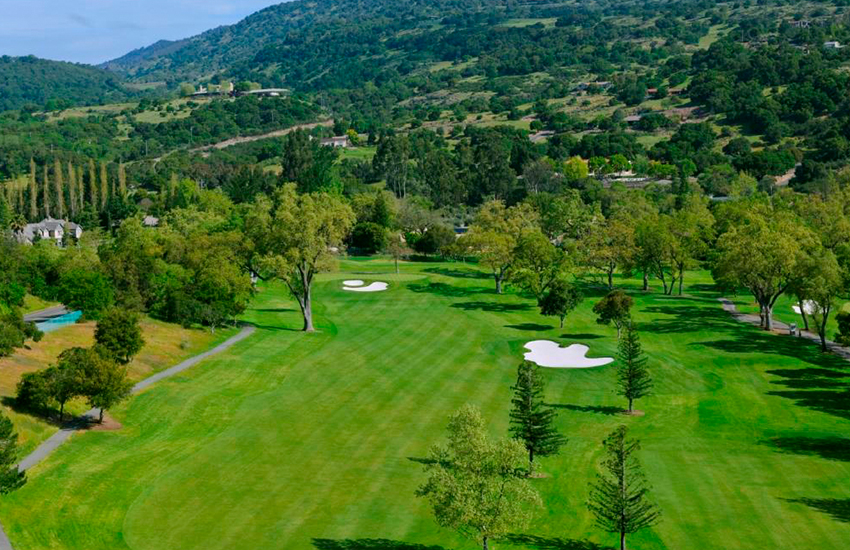 Golf in the morning and wine tasting in the evening (yes, please!)?  If that sounds like your ideal summer golf vacation, Silverado Resort is sure to deliver. 
Located in the heart of Napa Valley's wine country, Silverado Resort showcases the Bay area's natural beauty and stunning landscape. The resort offers two, premier designs, both recently redesigned by PGA Hall-of-Famer Johnny Miller. 
The North Course, home of the Safeway Open, demands shotmaking off the tee with challenging par-4s and plenty of risk-reward opportunities for chances at birdie. The South Course is equally as beautiful with towering oaks, meandering creeks, and dramatic elevation changes.
5. Chambers Bay Golf Course
University Place, Washington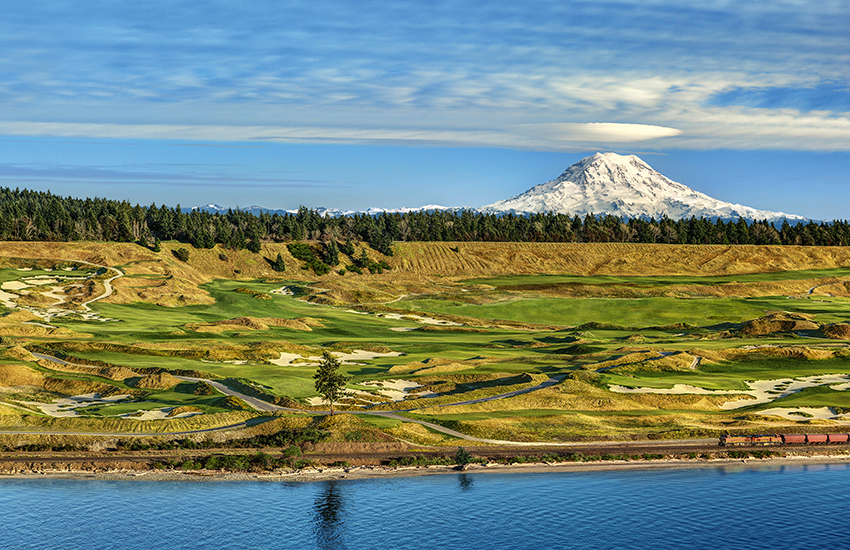 The Pacific Northwest is known for great golf, but none quite compare to the Scottish-inspired links at Chambers Bay. Located just outside of Tacoma, Washington, Chambers Bay is an 18-hole, walking-only golf course and has hosted the 2010 U.S. Amateur and the 2015 U.S. Open Championship.
The course was most recently ranked No. 37 in Golf Digest's latest issue of "Top Courses You Can Play" and is largely regarded as one of the best summer golf destinations on the west coast. Massive dunes, wide fairways, and wiry fescue grasses give Chambers Bay its charm. But the real treat is the stunning view of the Puget Sound and the snow-capped Olympic Mountains. 
With such prime real estate, it's hard to believe the area was first used as a rock quarry in the 1800s, followed by a paper mill, several lumber companies, a regional wastewater treatment plant (woah!), and more.
6. Tetherow Golf Club
Bend, Oregon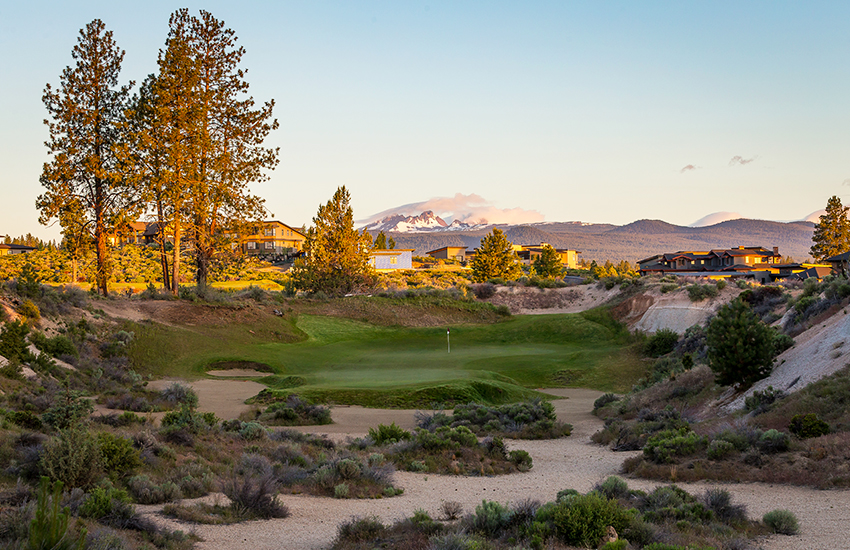 After his initial success designing Bandon Dunes in the late 90s, David McLay Kidd returned to the Pacific Northwest roughly a decade later to create yet another Oregon gem: Tetherow. The land Tetherow now occupies was previously annihilated in a forest fire. But while the land was at its worst, Kidd was at his best.
Unlike Bandon Dunes and the Castle Course at St. Andrews (another Kidd design), Tetherow boasts a landscape now riddled with trees, lakes, and dramatic elevation changes below the peaks of the Cascade Mountains. But some similarities are evident, like fescue-lined fairways and tricky greens sure to make for a challenge (and some fun putts).
The course was recently included in Golf Digest's list of Top 10 Courses in the State of Oregon and also offers luxurious accommodations and three on-site restaurants for your summer golf trip.
7.  The Coeur d'Alene Resort
Coeur d'Alene, Idaho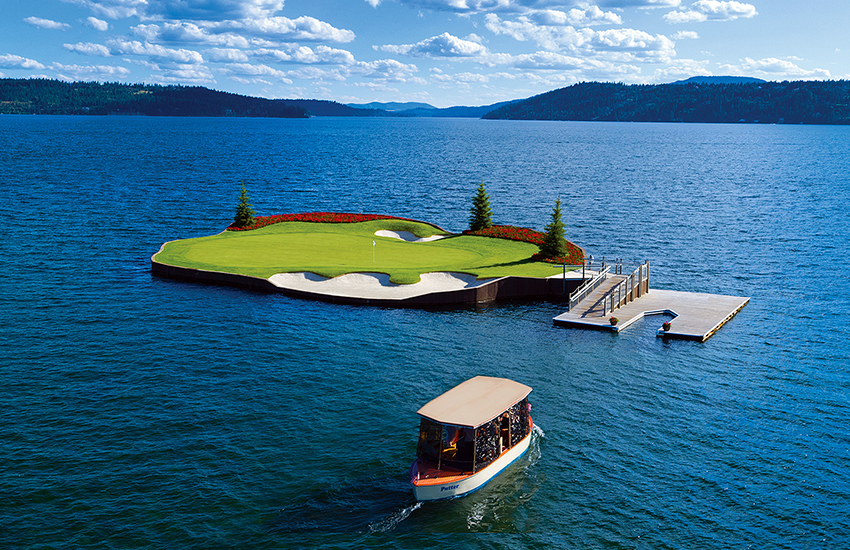 If the custom mahogany shuttle boats taking you from The Coeur d'Alene Resort to the golf course weren't impressive enough, maybe the over-water practice facility with floating golf balls will win you over (or the luxury golf carts). Needless to say, The Coeur d'Alene Resort Golf Course offers a summer golf experience like no other.
Prepare to be even further dazzled by the 14th Hole – the first, and only, moving and floating green that has seen many lost balls (and bets!).
The 22,000-ton island green changes position via an underwater cable system, stretching up to 220 yards from the tips. The remainder of the golf course includes lush fairways, exceptionally manicured greens, and stunning lake views on almost every hole.
8. The Greenbrier
White Sulphur Springs, West Virginia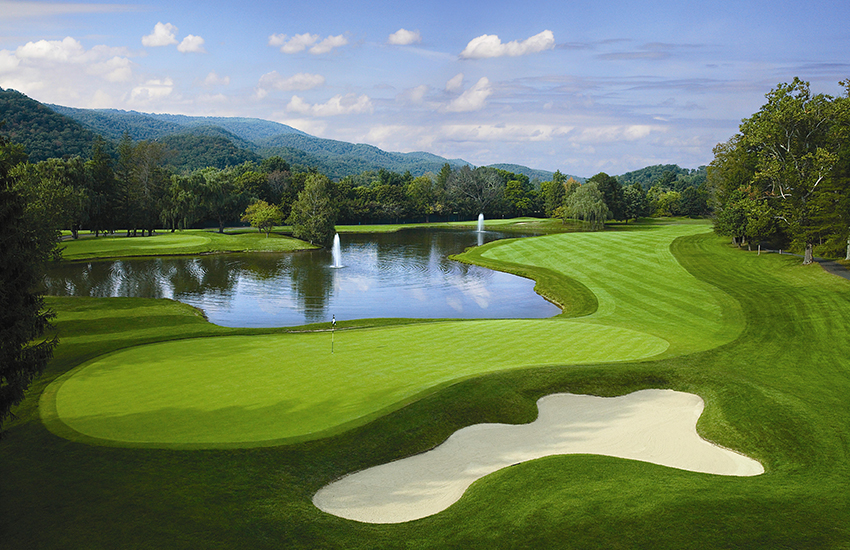 The Greenbrier (otherwise known as "America's Resort"), offers an incredible selection of award-winning golf on a property dating back to 1778. Nestled in the natural beauty of the Allegheny Mountains, The Greenbrier hotel was used as a military hospital and a bomb shelter during wartime before being restored to one of the nation's most fashionable vacation spots. 
But the history of golf at the resort is equally as impressive. The Greenbrier Course, designed in 1924 by Seth Raynor and renovated by Jack Nicklaus a half-century later, remains the only resort course in the world to have hosted both the Ryder Cup and Solheim Cup. 
The first 18-hole course at The Greenbrier, the Old White, opened for play in 1914. After undergoing recent restorations to its fairways, bunkers, and greens, the course remains a popular design (at the ripe age of 107). 
Other designs at the resort include The Meadows Course with unforgettable mountain vistas and The Greenbrier's newest addition, the Ashford Short Course – a 9-hole, walking-only course perfect for some friendly competition on your summer golf vacation. 
9. Sand Valley Golf Resort
Nekoosa, Wisconsin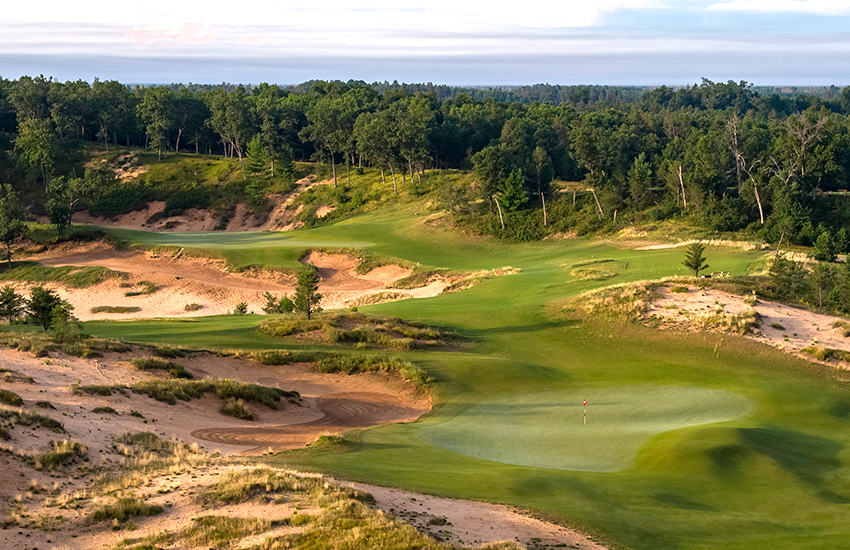 Sand Valley Golf Resort may be relatively new to the midwest golf scene. But since the opening of the resort's first course in 2017, Sand Valley has enjoyed rapid success. 
Nestled in central Wisconsin among tumbling dunes and hillsides, Sand Valley is centrally located near several major cities making it easy to access on your summer golf trip. 
Firm and fast playing conditions along with rolling fairways and greens at the resort's two 18-hole tracks beautifully resemble links golf conditions at courses across the pond. And the Sandbox, the resort's 17-hole short course, challenges players with unique green complexes including a Biarritz, double plateau, lion's mouth, and redan.
10. Erin Hills Golf Course
Hartford, Wisconsin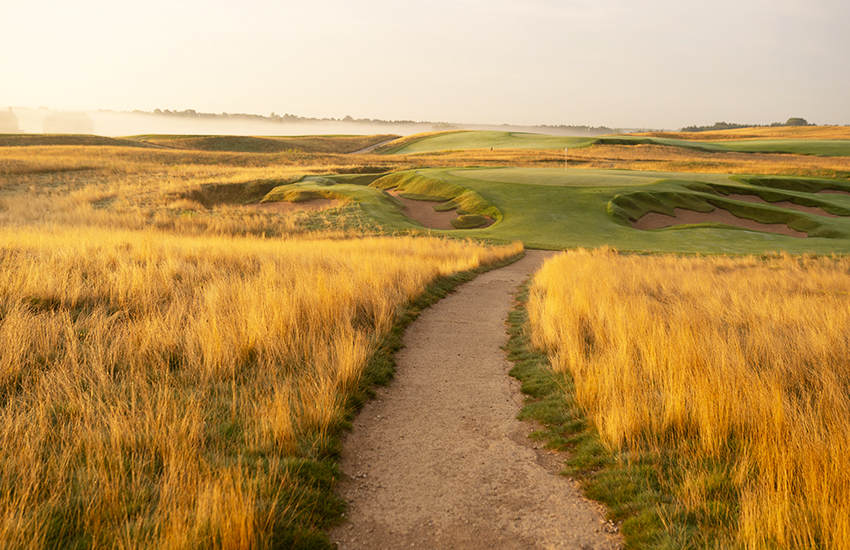 Host of the 2017 U.S. Open and several other USGA events, Erin Hills is not only of championship caliber, but also one of the most visually stunning golf courses in the nation. 
10,000 years before golf was played on the property, glaciers carved unique features into the landscape leaving behind a glacial soil composition of sand and small rock. Holes seemed to design themselves on the property as architects brainstormed plans for the design of the course. So, the choice was made to use fine fescue grasses across the property to accentuate the natural curvatures of the earth below. Today, the course boasts primarily bentgrass with fescue rough. 
Now the 9th ranked public golf course in the U.S., Erin Hills also offers a 63,000 square foot practice putting green and a 5-hole short course for a quick round before sundown on your summer golf trip.
If you're not able to make it to Erin Hills this summer, don't fret! For guests looking to maximize their time at Erin Hills in 2022, choose from several stay & play packages and enjoy complimentary second rounds on select dates in May and October along with heavily discounted second rounds on select dates in June and July.
11. Destination Kohler
Kohler, Wisconsin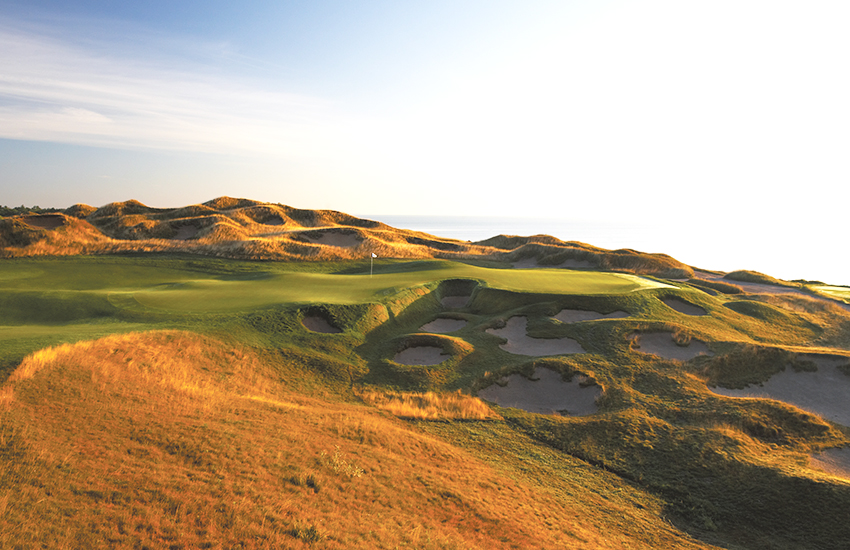 The grandiosity of the Lake Michigan shoreline, the wide windswept fairways, the rugged towering dunes  – no matter where your eyes wander at Destination Kohler, you're sure to be mesmerized by the sheer beauty of any of the resort's five courses. 
Home to Whistling Straits and Blackwolf Run, you'll be hard-pressed to find a collection of golf courses of this caliber anywhere else in the world. 
The Straits Course and the Irish Course, located at Whistling Straits, are two of the most challenging courses disguised by stunning, fescue-lined fairways and beautiful lake views. 
Blackwolf Run, named after Chief Blackwolf of the Winnebago tribe, boasts three courses: The River, Meadow Valleys, and The Baths of Blackwolf Run. The River came first, but after increased demand (and a 3-month long waitlist), the Meadow Valleys course was also created. 
The Baths of Blackwolf Run is the most recent addition to the resort, with a 10-hole par 3 course, two-acre putting course, along with food and drink availability.
12. Geneva National Resort & Club
Lake Geneva, Wisconsin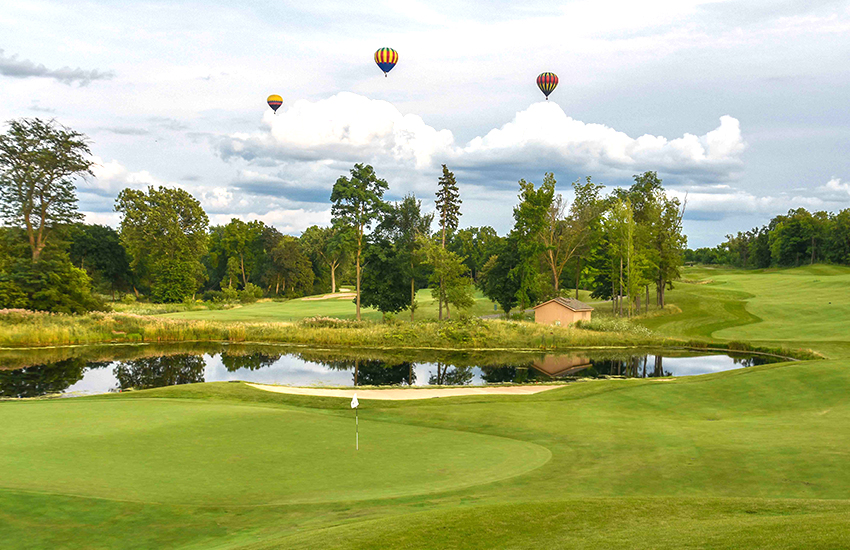 Nestled on the shores of beautiful Lake Como, Geneva National is a semi-private club with 54 holes of incredible golf including designs by Arnold Palmer, Gary Player, and Lee Trevino. 
Where accuracy is more important than distance and great risk can be met with great reward, Geneva National is filled with non-stop excitement. 
All three courses traverse through the rolling Wisconsin landscape, winding through woodlands and wetlands, along exceptionally groomed bent grass fairways and greens. Cottages, suites, and hotel rooms are all available on your summer golf vacation along with five dining options, a marina, spa, and so much more.
---
Make your summer golf vacation seamless by shipping your golf clubs and luggage ahead. Avoid carrying, checking, and claiming baggage at the airport and arrive at the first tee easier than ever before. Learn more about shipping ahead or get a free quote for your summer golf trip today!