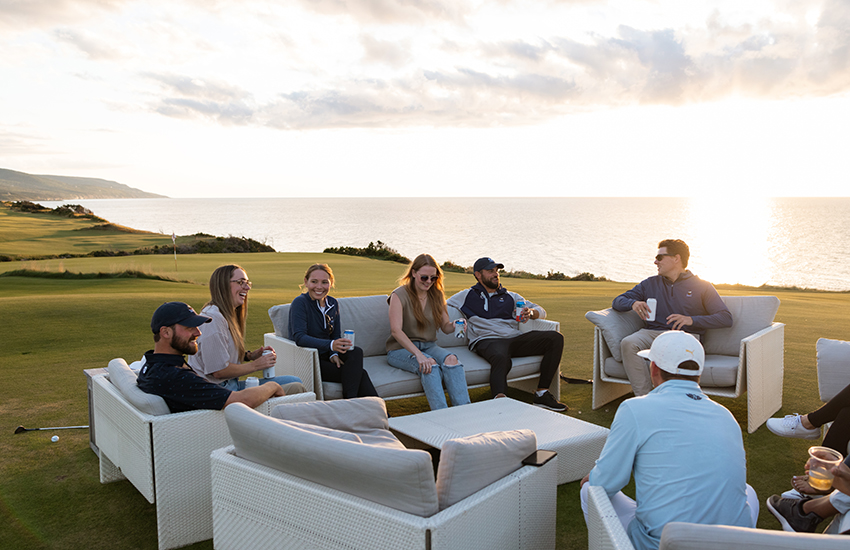 When the last putt drops, there's hardly ever any question about what comes next. Because the round isn't over after the 18th.
Maybe it's the nostalgic smell of a lit cigar. Maybe it's the familiar laughter of a group of guys recapping the day's endeavors a couple tables over. Maybe it's the way that first sip of an ice-cold beer can (almost) block out the flashbacks to the 105 you just shot. Or, maybe it's heckling your friends in the group behind you as they hit into the 18th green.
No matter the reason, all golfers can agree that nothing compares to the 19th hole, even if you're the one buying. So if you're looking for the ultimate post-round hangout spots, look no further. These are the best 19th holes around the world.
Best 19th Holes and Post-Round Hangout Spots
1. The Tap Room at Pebble Beach
Pebble Beach, California
We're kicking off our list with one of the most famous 19th holes: The Tap Room at none other than the magnificent Pebble Beach. The Tap Room goes far beyond your greasy hot dogs and typical bar food (though equally as delicious) with prime and certified Angus beef, vintage wines, and select scotches and whiskeys. Arguably more impressive, however, is not what's on your plate, but what's on the walls. The Tap Room is adorned with priceless golf memorabilia from some of the game's biggest moments. A quick glance around and there'll be no doubt you're somewhere special.
2. Brooks' Bar & Deck at Edgewood Tahoe Resort
Stateline, Nevada
Vaulted ceilings and massive windows at Brooks' Bar & Deck offer stunning views of the golf course, the turquoise waters of Lake Tahoe, and the snow-capped peaks of the Sierras. Could you imagine a more beautiful setting? When you're not spellbound by the view, Brooks' also has plenty of televisions to catch a game or two along with tasty gastropub fare and extensive beer, wine, and specialty cocktail menus.
3. The Veranda and Grillroom at Caledonia Golf & Fish Club
Pawleys Island, South Carolina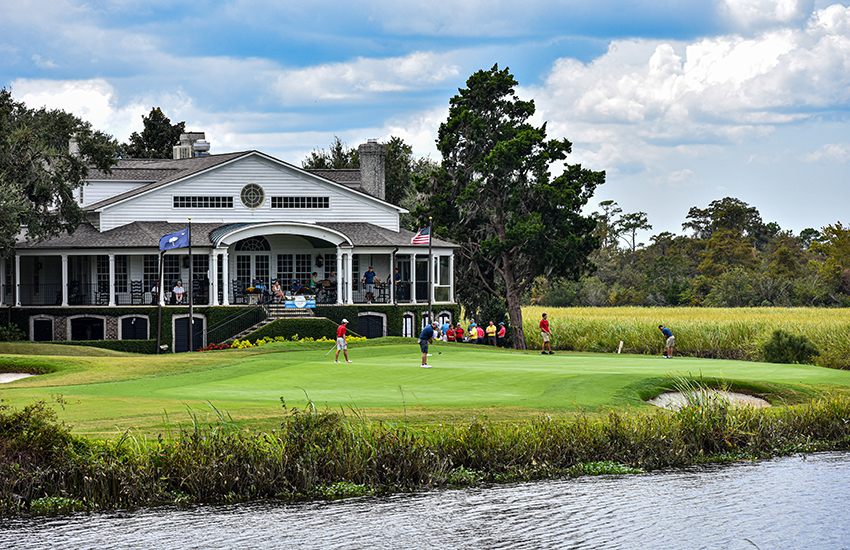 Welcoming atmosphere. Unparalleled views. Enticing menu. None of these factors alone would be enough to make our ranks. It takes a special kind of place that possesses all three – like Caledonia Golf & Fish Club. Caledonia's wraparound porch overlooking the 18th green provides a truly striking scene of the Intracoastal Waterway and native marshland. On a cool summer evening, you'll find it jam-packed with spectators, drink in hand, badgering friends below as they finish up their rounds. The Grillroom, just inside, serves up signature low country grub like fried pickles, barbecue sandwiches, crab cakes, and so much more. Hungry yet?
4. Mr. B's Pub at the Pine Crest Inn
Pinehurst, North Carolina
There's a certain kind of comfort that comes from pulling up a barstool and simply being asked, "the usual?" That's exactly what you can expect from a visit, or three, to Mr. B's Pub at the Pine Crest Inn. It's dimly lit (but not dreary), filled with memorabilia (that's invaluable), and small in size (so you can eavesdrop on the gentlemen next to you and interject with golf stories of your own). The charm is truly undeniable. It's also known as the place where guests can chip golf balls into the lobby's fireplace – a Pine Crest Inn tradition. Visit while a major championship is in town and you may find some tour pros giving it a whirl. If you're trying it yourself, we recommend doing so before sitting down for a drink…for obvious reasons.
5. McKee's Pub at Bandon Dunes Golf Resort
Bandon, Oregon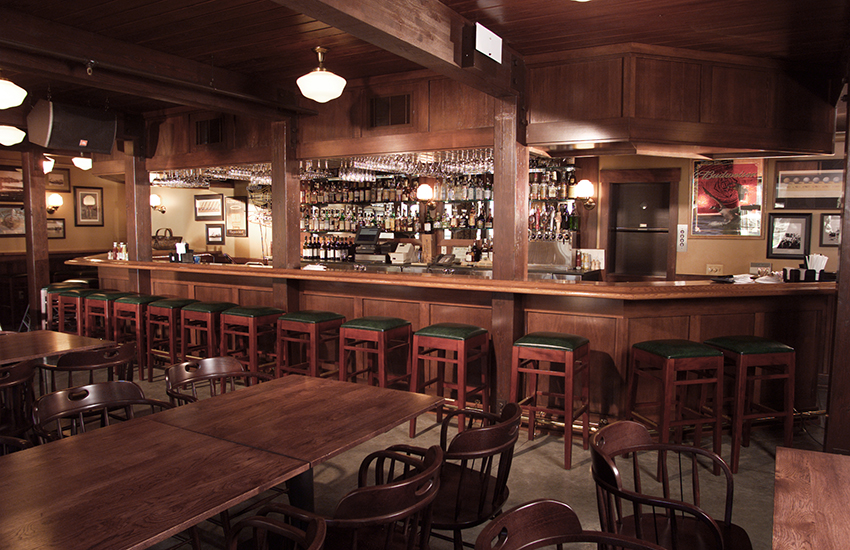 For the quintessential Scottish adventure without leaving the borders, we all know Bandon Dunes Golf Resort is the place to be. But the birthplace of the game isn't only evident in Bandon's six courses. It's nearly tangible in every on-site experience, including one of our favorites: McKee's Pub. From the Scottish-style setting to the delectable pub fare (we're looking at you 'Grandma's Meatloaf'), it's the ideal place to fill up and wind down. Their wide assortment of Pacific Northwest microbrews and classic single malt scotches are sure to please any palate, too.
6. The Jigger Inn at the Old Course Hotel, Golf Resort & Spa
St. Andrews, Scotland
Dating back to the 1850s, the Jigger Inn is one of the most historic and best 19th holes on our list. It's located at the Old Course Hotel and was originally the stationmaster's lodge. The history of the building and its hallowed grounds are showcased on the walls of the Jigger, with golf relics interrupted only by crackling open-hearth fires. Their home-cooked food and a pint of Jigger Ale are the perfect post-round provisions.
7. Ailsa Pub at Legends Resort
Myrtle Beach, South Carolina
The Jigger Inn was one of the most historic 19th holes, and the Ailsa Pub at Legends Resort might be the largest. Because Myrtle Beach is the golf capital of the world, visitors need a place to unwind, celebrate, or mull over that last missed putt at a place worthy of the Myrtle Beach reputation. Ailsa Pub is just that. The Scottish-themed pub boasts 16 televisions, indoor and outdoor seating, and a seasonal outdoor bar complete with a pool table, ping pong, corn hole, and horseshoes. It would be sacrilegious to take a golf trip to Myrtle Beach and not stop by.
8. Pelican Grill & Bar at Pelican Hill Golf Club
Newport Beach, California
"Sunsets are served daily" at Pelican Grill & Bar. As are the craft cocktails, wood-fired pizzas, prime steaks, and fresh catch of the day. Need we say more? No, but we will. You can dine al fresco to fully enjoy the nearby Pacific Ocean, or dine indoors and be entertained by chefs preparing your meal in their open-concept kitchen.
9. Cliffs Couches at Cabot Cape Breton
Inverness, Nova Scotia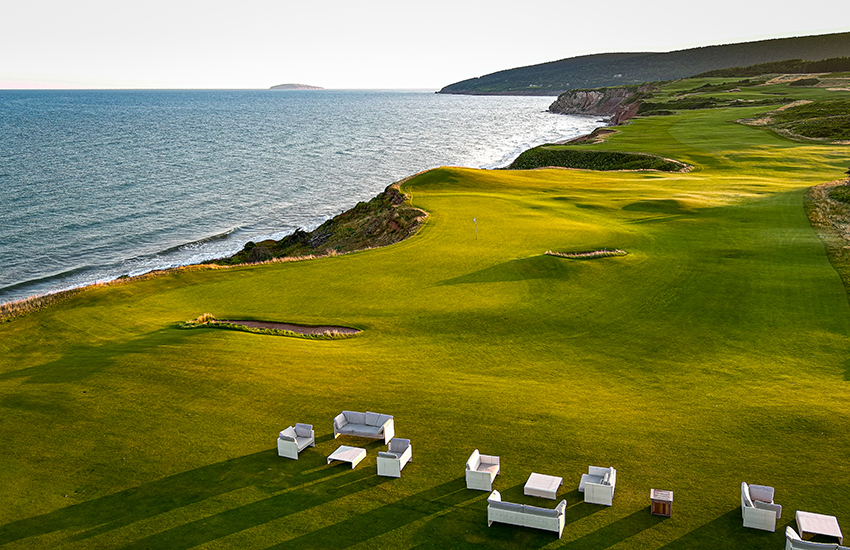 For all the grandeur and opulence that is Cabot Cape Breton, there's a remarkably laid-back 19th hole that may very well be the best in Canada. It's Cliffs Couches. Cabot actually has a few post-round hangout options to choose from, all of which are excellent, but Cliffs Couches is truly one-of-a-kind. The couches are located between the 10th and 18th greens, affording uninterrupted views of incoming groups and the endless horizon of the Atlantic Ocean. Additional furniture was recently added to Cliffs Couches so even more guests and golfers can join in on the tasty drinks, camaraderie, and unreal setting.
10. STICKS at The Inn at Spanish Bay
Pebble Beach, California
Allow us to set the scene…The sun is setting on a spectacular day at Spanish Bay. You have a glass of bubbly in hand, feet propped up on one of the outdoor fireplaces. Just to your right are picturesque views of The Links at Spanish Bay and you're relaxing to the sound of a bagpiper bringing the spirit of the Scottish Highlands to the California coast. You can enjoy all this and more at STICKS, located at The Inn at Spanish Bay. STICKS offers a relaxed, sports bar atmosphere with tasty comfort food, flat-screen televisions, craft cocktails, and more.
11. Mullins Bar & Grill at Half Moon Bay Golf Links
Half Moon Bay, California
There are a few hidden gems on our list, and Mullins Bar & Grill at Half Moon Bay Golf Links is certainly one of them. Mullins offers a wide selection of appetizers, salads, and sandwiches, as well as a full bar with a fabulous selection of wine. The outdoor patio area overlooking the golf course is great for watching the sunset or enjoying a cool evening breeze.
12. Bar & Grill at Mayacama Golf Club
Santa Rosa, California
The Bar & Grill at Mayacama Golf Club, one of the best 19th holes, is a great place to relax and unwind after a round of golf. The restaurant offers a variety of delicious dishes, from classic comfort foods to more adventurous entrees. The restaurant also boasts a full bar and an extensive list of wines and craft beers. Whether you're looking for a light bite or a full meal, the Bar & Grill has something for everyone.
13. The Deuce at Pinehurst Resort
Pinehurst, North Carolina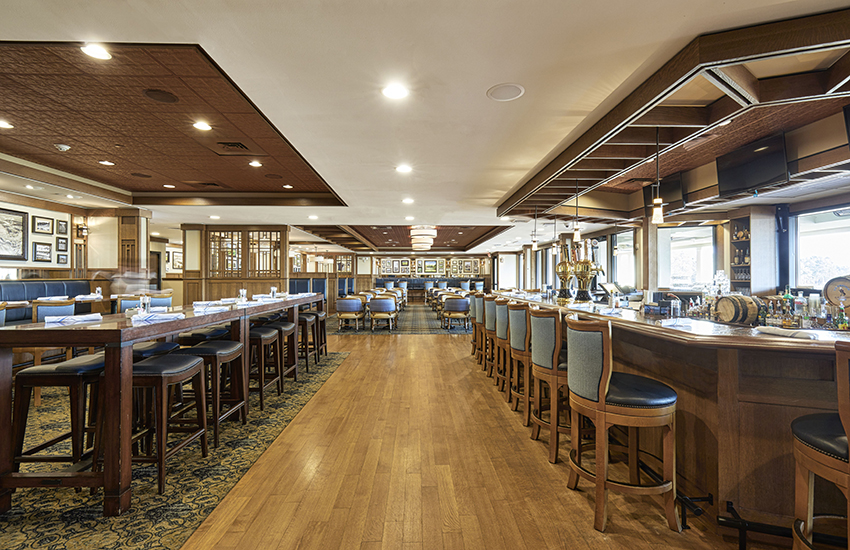 After playing any of Pinehurst Resort's nine courses, you owe it to yourself to enjoy a cold one at The Deuce. Overlooking the famed 18th green of Pinehurst No. 2, few settings are more superb for some friendly heckling and excellent eats. The drinks are top-tier, too, with innovative cocktails and several craft beers on tap, including North Carolina microbrews. For festivities beyond the 19th hole, consider clinking glasses at the nearby Pinehurst Brewing Company or spending an evening at the Cradle Crossing. Overlooking the third green and fourth tee at The Cradle (the resort's world-famous short course), the Cradle Crossing is an open-air bar with plenty of seating to kick back, sip on a transfusion, and watch the Cradle fun unfold.
14. Road Hole Bar at the Old Course Hotel, Golf Resort & Spa
St. Andrews, Scotland
If the walls of the Road Hole Bar could talk, they'd tell stories of evenings filled with laughter and friends reunited. They would tell tales of glasses clinking, whisky flowing, and conversations that lasted all night long. It's a special place with an equally as special view: the 17th Hole at the Old Course. The Bar is also known for its boundless whisky selection which consists of 260 varieties from nearly every working distillery in Scotland.
15. The Ryder Cup Bar at The Ocean Course at Kiawah Island Golf Resort
Kiawah Island, South Carolina
The 1991 Ryder Cup at The Ocean Course, dubbed the "War by the Shore," was one of the most thrilling in the history of the event. So, it's only fitting to have a bar named after such a celebratory time – for the U.S. fans anyway. If you choose to sit indoors at the Ryder Cup Bar, you'd be remiss not to take a stroll around and behold all of the memorabilia on the walls. Sitting outside, however, means lounging in the salty sea breezes with a spectacular view of the golf course itself. As for the food, the Bagger Burger, named after The Legend of Bagger Vance (which was filmed on Kiawah Island Golf Resort's courses), is an absolute must-try. You can't go wrong with the Crispy Shrimp or Fried Green tomatoes, either.
16. Pub 59 at Streamsong Resort
Bowling Green, Florida
There are more than half a dozen dining options at Streamsong Resort, but Pub 59 is certainly one of our favorites. With breakfast classics and lunch and dinner favorites, you can dine all day at Pub 59. Located at the Red & Blue Clubhouse, overlooking the practice putting green and the Bye Hole, Pub 59 boasts a pub fare-inspired menu and a great selection of 16 microbrew and craft beers on tap. Menu highlights include specialty burgers, signature pork belly mac n cheese, and the Pub 59 classic bacon ice cream sundae.
17. Phil's Grill at Grayhawk Golf Club
Scottsdale, Arizona
Phil's Grill at Grayhawk Golf Club is far more than just a casual dining experience – the whole place is an ode to, you guessed it, Phil Mickelson. Mementos from Mickelson's career adorn the walls of the grill, from the driver he swung as a junior player to various items from his major championship victories. This hardwood and leather-clad bar, along with its spacious outdoor patio, is a terrific place to enjoy some good drinks and even better eats.
18. The Adirondack Chairs at Arcadia Bluffs
Arcadia, Michigan
There are several post-round settings to choose from at Arcadia Bluffs. But none get you closer to the action than The Adirondack Chairs. This collection of seats is nestled on the edge of the 18th green of the Bluffs Course and offers the perfect vantage point for incoming groups and the sprawling Lake Michigan shoreline. As if this 19th hole couldn't get any better, staff will come to you to take your drink order. All you have to do is sit back and sip!
19. Packard's Steakhouse at Innisbrook Golf Resort
Palm Harbor, Florida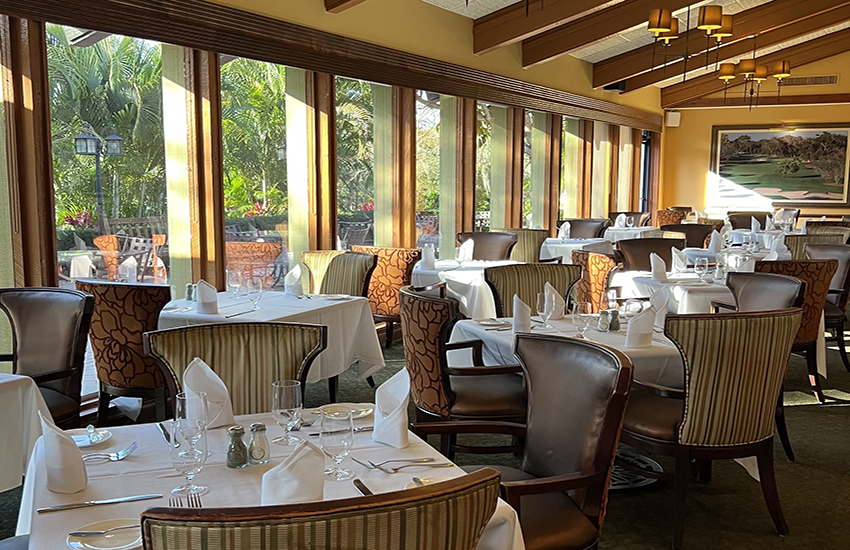 Innisbrook Golf Resort's signature restaurant, Packard's Steakhouse, is located right on the Copperhead Course. The restaurant serves only the finest aged premium beef steaks, cold water lobster tails, and fresh local fish all enjoyed in a comfortable, upscale setting. Pair your meal with a glass of red or white from their vast wine menu or opt for a tasty cocktail instead.
The 19th hole is more than just a bar. It's a place of camaraderie. It's a place to tell tales of wild shots and lucky breaks. It's a place where memories are made you won't soon forget.
Make your next golf trip a lifelong memory with a visit to any of these best 19th holes. And ship your golf clubs and luggage ahead of your arrival with Ship Sticks to make your journey there equally as enjoyable. Cheers!