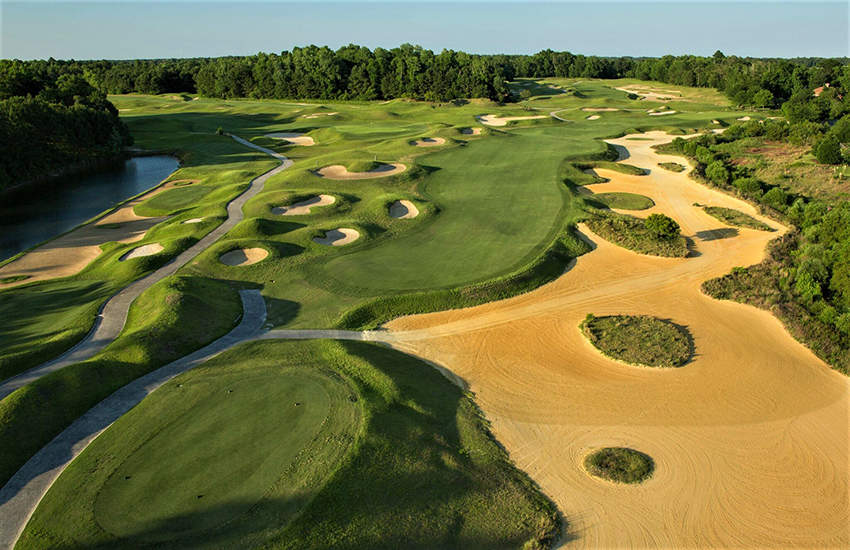 When you think of the best golf trip destinations, the names Bandon, Pinehurst, Streamsong, and other major golf meccas often come to mind. But we've got another golf destination to consider: Myrtle Beach, South Carolina. With more than 90 world-class golf courses up and down the Grand Strand, Myrtle Beach is one of the best golf trip destinations in the world. In fact, it's even regarded as the "Golf Capital of the World." Not only is the quality of golf great, but so are the prices. Many resorts offer stay-and-play packages that provide the best combination of quality and affordability. So, without further ado, these are the best courses you can play in Myrtle Beach.
Top Courses You Can Play in Myrtle Beach
1. The Dunes Golf & Beach Club
Located in the heart of Myrtle Beach, the Dunes Golf & Beach Club has long been regarded as the area's premier golf course. The Club was first created in 1947 and has hosted the PGA Senior Tour and the USGA Women's Open along with many other events. The golf course occupies a stunning oceanside setting with lush fairways that meander through lagoons and lakes. The most famous hole at the course is No. 13, dubbed "Waterloo", where players must conquer Lake Singleton on a severe dogleg right.
2. Caledonia Golf & Fish Club
The design at Caledonia Golf & Fish Club is eclipsed only by its beauty. Your Caledonia experience begins with a half-mile drive through a hundred-year-old oak tree tunnel. The stunning entrance leads to the Antebellum-style clubhouse that overlooks the 18th green. It's where golfers gather after their round to watch other players hit into the final hole. The course is known for its pristine fairways, undulating greens, and fun around every corner. Needless to say, it's an incredible experience from start to finish.
3. True Blue Golf Club
The sister course to Caledonia (literally, it's located just across the street!), True Blue Golf Club is the complete opposite in design of Caledonia. Where tight, tree-lined fairways required precision at Caledonia, the wide open fairways and expansive bunkers (that you can drive through) make True Blue a playground for golfers. Both courses were designed by the legendary Mike Stranz and remain two of the best courses you can play in Myrtle Beach.
4. TPC Myrtle Beach
TPC Myrtle Beach is the only course along the Grand Strand to be awarded a five-star rating by Golf Digest. It was designed by Tom Fazio with assistance from Lanny Wadkins and celebrates the natural landscape of the South Carolina Lowcountry. Brilliantly-designed green complexes and unique undulations make this golf course an exciting one. Visitors are sure to enjoy TOUR-quality conditions, too, as TPC Myrtle Beach once hosted the Senior PGA Tour Championship.
5. Prestwick Country Club
Located on the southern end of Myrtle Beach, Prestwick Country Club is one of the area's best kept secrets. Designed by Pete and P.B. Dye, the Scottish-inspired course is a fun one to play. There's strategic and challenging mounding, elevated and contoured greens, and small creeks and lakes throughout the golf course. The wide-open 9th and 18th holes are backed by a stunning clubhouse – the perfect spot for a post-round drink.
6. Barefoot Resort & Golf – Dye Course
You may recognize the name of Barefoot Resort & Golf from Golf Channel's hit show Big Break Myrtle Beach. Now, you can experience it yourself! The Dye Course is one of four at Barefoot Resort & Golf and it's one of the best golf courses you can play in Myrtle Beach. Designed by Pete Dye, the Dye Course has continued to receive dozens upon dozens of accolades including Golf Digest's list of America's 100 Greatest Public Golf Courses.
7. Tidewater Golf Club
Few golf courses boast as much natural beauty as Tidewater Golf Club. It's located in North Myrle Beach and is nestled between the Intracoastal Waterway and Cherry Grove Inlet. And because of the incredible course conditions and unmatched views, many refer to the club as "the Pebble Beach of the East."
Ship your golf clubs and luggage ahead to these best courses you can play in Myrtle Beach to make your golf vacation better than ever. Learn more or get a free quote today!