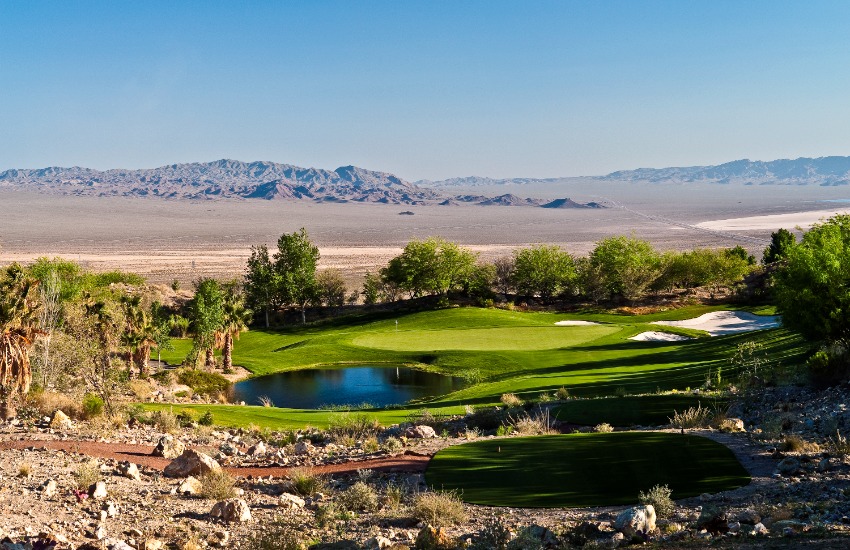 The American frontier – known for cowboys, outlaws, and scorching temperatures – has been a far-from-celebrated region of the nation since the 1860s.
But today, there's far less contempt for the wild, wild west. Barren deserts are now home to luxurious resorts. Rugged mountains now offer a welcome escape from the busy cities. And the terrain, once regarded as a sea of sand, is now dotted with some of the nation's most impressive golf courses.
As demanding as the environment can be in the western region of the U.S., we know golfers will travel just about anywhere for the sake of the game – especially if it means experiencing some of the most artistically-driven and diverse designs like those in the wild, wild west.
So, without further ado, and in no particular order, these are the top western U.S. golf courses.
The Best Western U.S. Golf Courses
1. Rams Hill Golf Club
Borrego Springs, California
This hidden gem is about as hidden as they come. But, don't be fooled – Rams Hill Golf Club loses no appeal despite its location. In fact, the club advertises their Fazio-designed links as "the middle of nowhere, but exactly where you need to be." And we couldn't have said it better. 
Recently included in Golf Digest's "100 Greatest Public Courses in America," Rams Hill is a true masterpiece. Rising from the arid desert, the course boasts beautiful mountain vistas, challenging height variations, and several meandering streams and waterfalls thanks to nearby springs.
In 2017, Rams Hill was also rated as the third-best resort in California by Golf Week. The only two Californian courses that ranked higher? You guessed it: Pebble Beach and Spyglass Hill.
This truly unforgettable golf experience is surpassed only by, believe it or not, the club's apple-caramel cookies – cherished by locals and visiting golfers alike.
2. Cascata
Boulder City, Nevada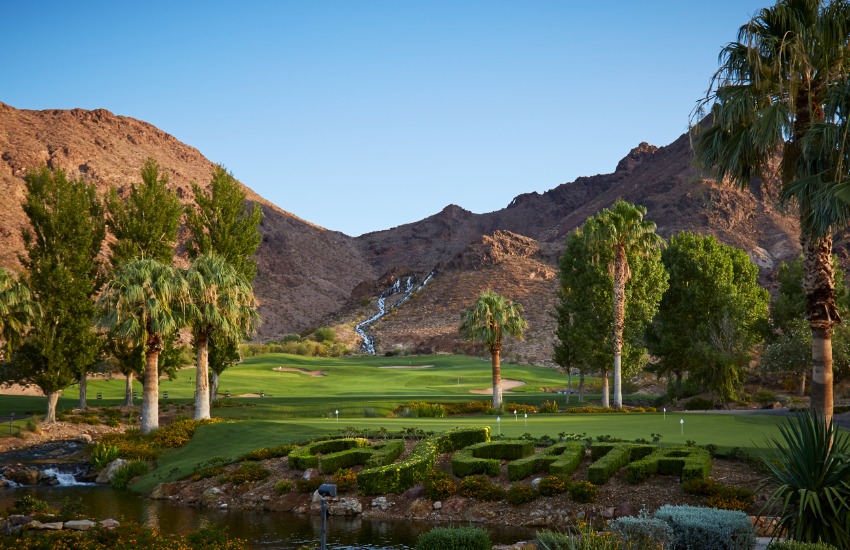 Against the canvas of the River Mountain Range is one of Rees Jones's most beautiful pieces: Cascata. The juxtaposition of a lush fairway against a rugged backdrop is a common one in western golf. But, none quite compare to those at Cascata. And around every bend or corner is yet another scene ready for the lens of your camera.
The course itself is located just 30 minutes from the Las Vegas strip. But, players can't deny their surprise by the privacy and silence across the golf course – where a sense of pure stillness lingers in the air.
As 'Cascata' is Italian for 'waterfall,' arguably the most memorable part of the golf course is the 418-foot water feature meandering down the mountain. 
But when golfers slip off their spikes and sit down for a post-round beverage, it's the impeccable service they'll be talking about. From start to finish, the Cascata staff ensures no detail is overlooked.
3. Singing Hills Golf Resort at Sycuan
El Cajon, California
Singing Hills is the only golf resort in the San Diego area with three different golf courses: Oak Glen, Willow Glen, and Pine Glen – the resort's 18-hole par 3 course. 
Oak Glen is a stunning, par-72 course with a challenging layout. Interactions with the Sweetwater River require some difficult carries-over-water and subtly undulating greens will test even the best short game. The course is expected to undergo some infrastructure improvements this fall so book your tee time while you can.
Willow Glen offers just as much visual appeal with an entirely different feel. Known for doglegs, elevation changes, and strategic bunkering, Willow Glen is an excellent test for any level of player.
But, the resort is no stranger to professional golf either, having hosted the Junior World Golf Championships, several SCGA and USGA Championship qualifiers, the US Junior Amateur, and more.
And when you're done gambling on the golf course, you can take a quick 5-minute ride to the Sycuan Casino Resort for even more fun after sundown.
4. Rio Secco Golf Club
Henderson, Nevada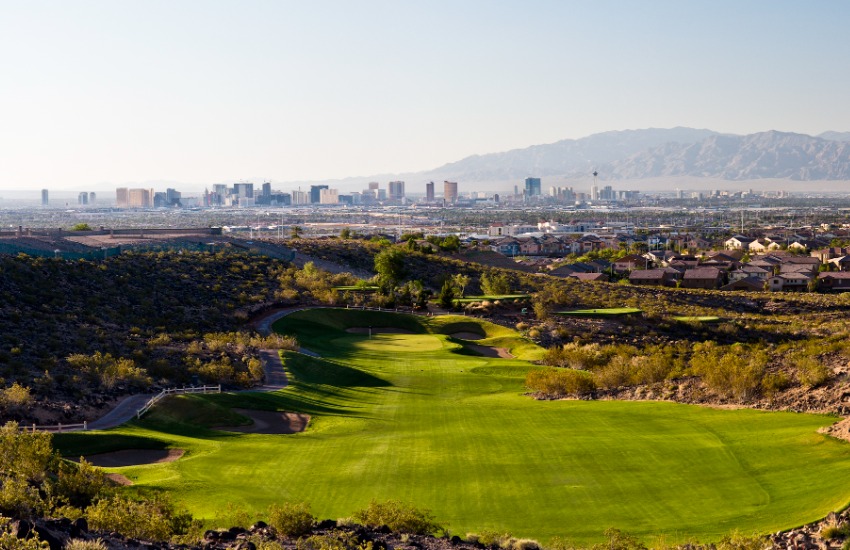 The Rees-Jones designed layout at Rio Secco Golf Club has been open since 1997. And for the past 25 years, it's remained one of the best western U.S. golf courses. 
With lush fairways impeccably blended with the natural desert-scape and incredible views of the Las Vegas strip, Rio Secco undoubtedly occupies one of the most captivating regions in Nevada. Rio Secco means "dry river" in Portuguese and the entire front nine is routed through its namesake. The back-nine, however, sits a little higher with incredible views of the valley below. 
The course continues to evolve and recent upgrades, led by Jones, included new greens, bunkers, and additional forward tee boxes to aid in playability.
5. Sedona Golf Resort
Sedona, Arizona
Snaking through the towering red rocks of Arizona, few western U.S. golf courses leave such a lasting impression as Sedona Golf Resort.
While the par-71 golf course features an intriguing design and incredible course conditions, it's the backdrop of the red rock canyons that will have you returning to Sedona Golf Resort again and again.
This incredible year-round destination offers a wide array of stay & play packages, too, to best accommodate you and your group.
6. Tetherow Resort
Bend, Oregon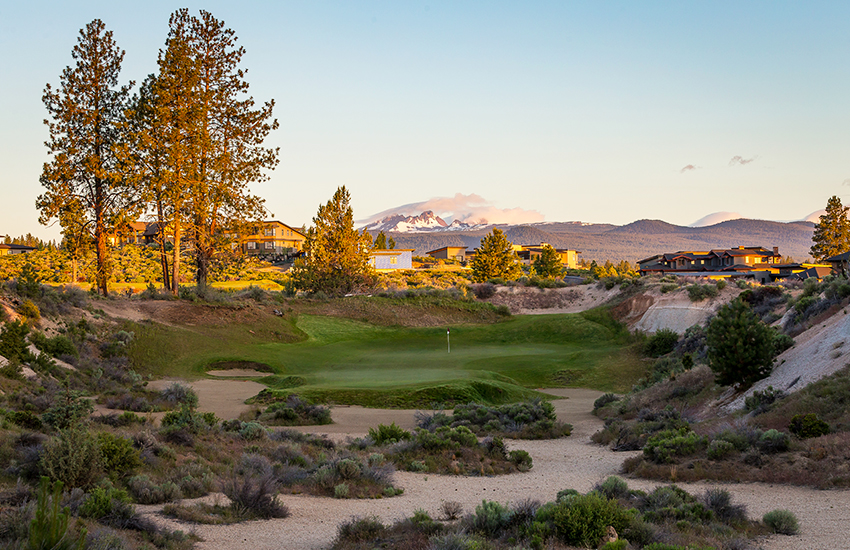 Created by the king of the Pacific Northwest, Tetherow joins an esteemed group of golf courses designed by David McLay Kidd – whose other brainchildren include Bandon Dunes, the Castle Course at St. Andrews, and Gamble Sands (more on this one later). 
However, Tetherow showcases a different side of Kidd's design style. It's highlighted by dramatic elevation changes and a routing that emphasizes the unforgettable views of the Cascade Mountains. 
Fescue-grasses, sporadic trees, and rugged bunkering give Tetherow an intriguing visual element. And the experts agree, as it was recently rated No. 82 on the list of "Best 100 Courses you can Play" for 2021-22.
7. Sand Hollow Resort
Hurricane, Utah
Just 45 minutes from the beautiful Zion National Park, no destination highlights the beauty of the red rocks more than Sand Hollow Resort.
Not only are the resort's three golf courses easy on the eyes, but they've received national acclaim from golf's largest publications. 
Voted the #1 "Best Course You Can Play" in Utah for the last 12 years, the Championship Course is an absolute must-play. The desert landscape is on a pedestal across all 18 holes and you'll find yourself reaching your camera just as much as your golf clubs. 
The Links Course pays homage to the home of golf with massive greens and fairways. The 3,600-yard par-3 course welcomes beginning golfers but also offers a unique experience for those a little more familiar with the game.
The Sand Hollow experience is complete with a round at the, aptly named, Wee Course. Yardages vary from 50-120 yards on Southern Utah's only par-3 course and it's truly fun for the entire family.
8. Gamble Sands
Brewster, Washington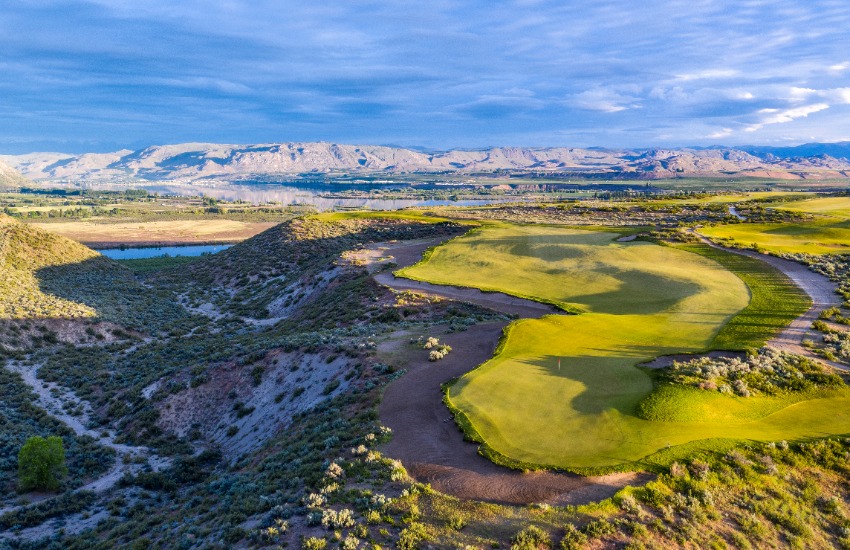 Opened just eight years ago, Gamble Sands quickly rose to stardom. It's now largely regarded as one of the best western U.S. golf courses and occupies a truly incredible setting under the peaks of the Cascade Mountains. 
The Sands Course at Gamble Sands, the club's only 18-hole track, is sprawled across the desert floor with nearly 115 acres of firm fairways and fine fescue grasses. The course offers a little spin on the traditional links design with reachable par 4s, split fairways, and more. Beautiful views of the Columbia River only add to the appeal.
And for some added fun on your golf trip to Gamble Sands, take advantage of their recently-opened short course: QuickSands.
9. Marriott's Shadow Ridge Golf Club
Palm Desert, California
For great value with no comprise on quality, consider teeing it up at this Faldo-designed treasure in the Coachella Valley. Shadow Ridge Golf Club boasts more than 350 days of incredible weather, so sunshine is a safe bet almost any day of the year. 
Generous fairways are challenged by strategic bunkering and subtly undulating greens require strategy on almost any approach. And while the golf course takes center stage with a round at Shadow Ridge, the views of the snow-capped Santa Rosa Mountains are the cherry on top.
10. Silverado Resort and Spa
Napa, California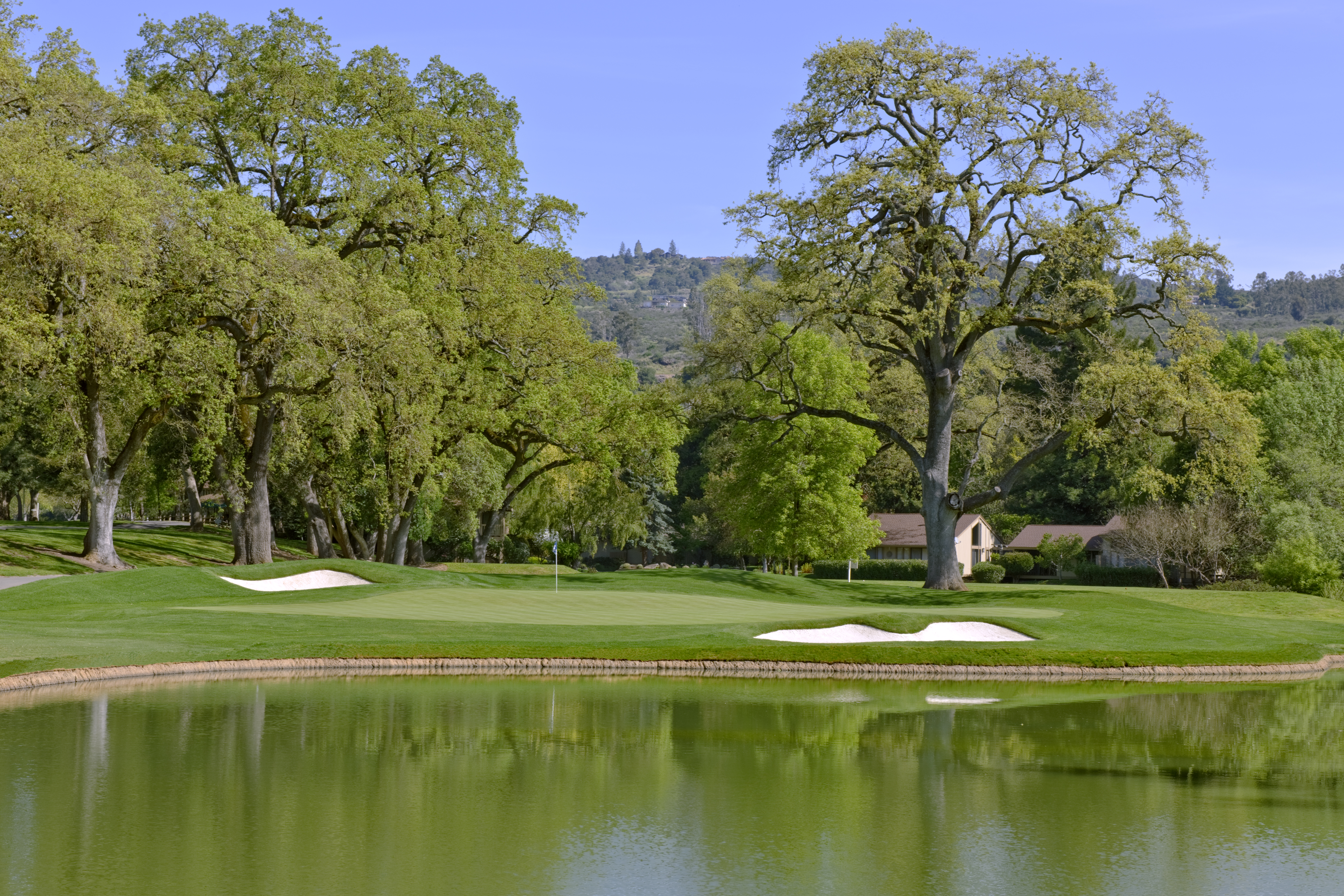 Wineries, a world-class spa, and two celebrated golf courses – what more could you want? Enjoy all of this and more at Silverado Resort and Spa in beautiful Napa, California. 
Both golf courses at Silverado have been recently redesigned by owner and PGA Hall of Fame inductee, Johnny Miller. Play is also limited to members and resorts guests, so you're sure to enjoy an exclusive day on the links. 
After your round, visit the region's world-class wineries for intimate tastings or indulge at one of several award-winning area restaurants.
11. Ventana Canyon Golf and Racquet Club
Tucson, Arizona
Nestled in the Santa Catalina Mountains lies a private golf experience like no other. Winding through the steeps and valleys of the Sonoran Desert, Ventana Canyon Golf and Racquet Club offers two of the finest, western U.S. golf courses.
These 18-hole championship designs, both from the mastermind of Tom Fazio, display the very best of desert golf. You'll find elevated tee boxes, gently undulating greens, and a beautifully maintained surrounding ecosystem – including canyons speckled with saguaro cacti and wildlife like coyotes, javelina, roadrunners, and quail.
These incredible western U.S. golf courses are calling. And all you have to do is answer! Enjoy stress-free travel to the first tee when you ship your golf clubs and luggage ahead. Learn more about the process or get a free quote today!