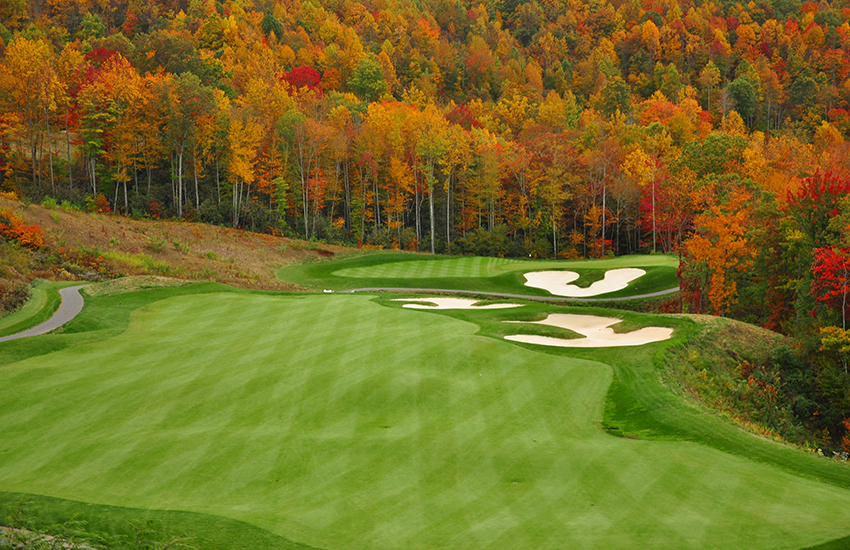 Who are we kidding… golf is great year round! But there's nothing quite like sipping on a steaming cup of coffee while waiting to tee off on a crisp autumn morning. It's like the rest of the world is still asleep, while you're out taking full advantage of what's bound to be a beautiful day. It's just one reason to absolutely love fall golf. And we've gathered all of the other reasons why fall is the best season for golf.
4 Reasons Why Fall is the Best Season for Golf
1. The Foliage
Golf courses tend to be naturally beautiful on their own. But, perhaps the best thing about fall golf, is that they get even more stunning. A backdrop of reds, oranges, yellows, and golds makes those double bogeys (or worse) hurt just a little less.
2. The Crowds
School is back in session, the family vacations are over, and the summer crowds have dispersed! That's why fall typically means fewer crowds at your local golf courses. With a decrease in demand, you may be able to take advantage of less expensive rates, too, on both tee times and cart fees. And because there's a greater availability of tee times, you won't have to worry about getting stuck behind a high school match. Plus, a morning round means plenty of time to watch football in the evenings. It's a win-win…win!
3. The Conditions
With the exception of aeration, golf courses are typically in great shape during the fall. Because the temperatures are dropping and fairways are firming up, you'll also get a little extra roll on your tee shots.
4. The Weather
The summer heat and humidity are finally gone. Thank goodness! Comfortable temperatures and calm breezes are two more reasons why fall is the best season for golf. Nothing beats it.
Ready to tee it up this fall? Us, too! Be sure to ship your golf clubs and luggage ahead of your arrival to your fall destination. Learn more or get a free quote today.