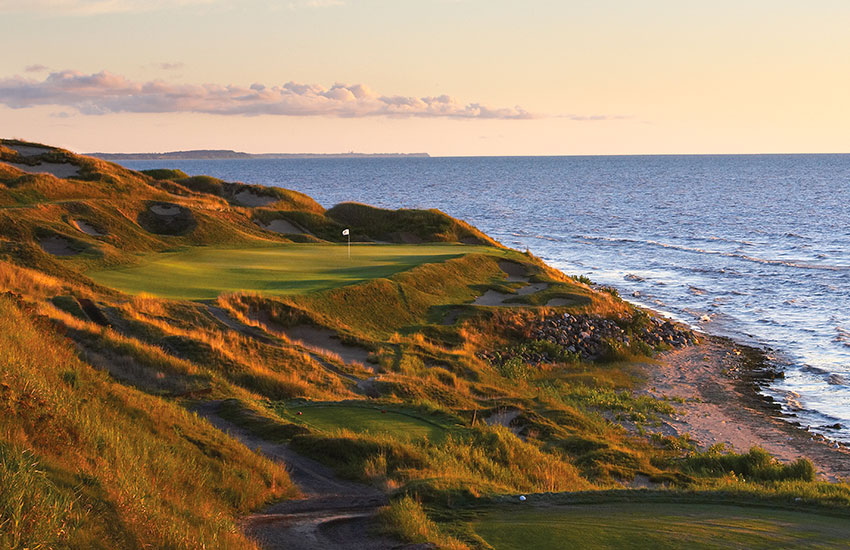 Wisconsin is home to America's Dairyland, the Green Bay Packers, and, for our purposes, the 43rd Ryder Cup matches. From links-inspired designs with windswept fairways to parkland courses nestled along the Great Lakes, we've found the top golf courses in the state of Wisconsin. And, we'll start with the host course of this year's Ryder Cup: Whistling Straits. 
Our Top Ranked Courses in Wisconsin
1. Whistling Straits (Straits)
Sheboygan, Wisconsin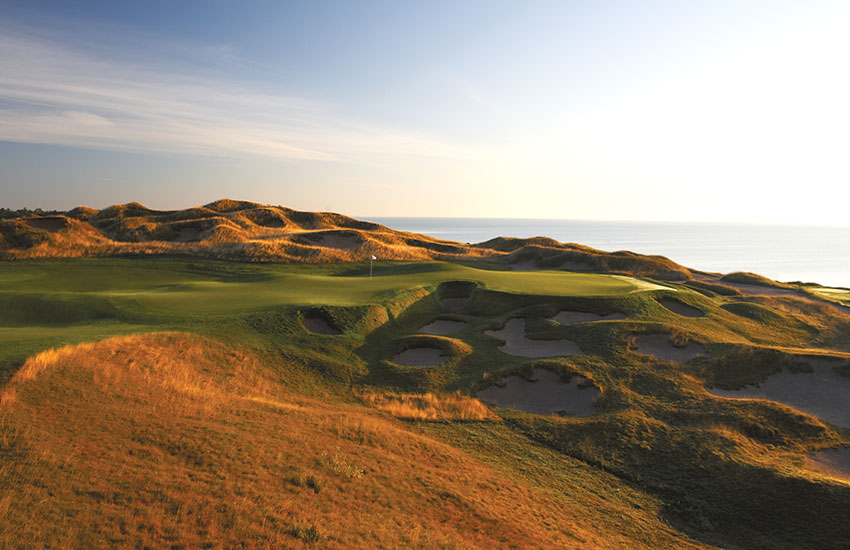 Three years after a European victory in Paris, 24 of the world's best players have gathered at the beautiful Straits Course at Whistling Straits for the 43rd edition of the Ryder Cup matches. 
Defined by windswept fairways, deadly bunkering, and endlessly undulating greens, the Straits Course, one of the best golf courses in Wisconsin, sure has some bite. The consolation prize for keeping the ball in play? Enjoying awe-inspiring views of Lake Michigan (two miles of it!).
2. Blackwolf Run (River)
Kohler, Wisconsin
Ravines, creeks, gorges, and more – with water on 14 of the 18 holes of the River Course at Blackwolf Run, it truly lives up to its name. This Pete Dye design is beautifully routed through the Wisconsin landscape, highlighted by interactions with the Sheboygan River – a beauty and a beast. 
3. Milwaukee Country Club
River Hills, Wisconsin
Often regarded as a classic, old-school design, Milwaukee Country Club has remained one of the top golf courses in Wisconsin thanks to recent renovations led by Tom Doak and Don Placek. 
Improvements included the removal of several trees around the course to allow for uninterrupted views of the Milwaukee River, in addition to a handful of holes that already hug the river's edge. Members of the club enjoy pristine course conditions and a design sure to withstand the test of time.
4. Erin Hills Golf Course
Hartford, Wisconsin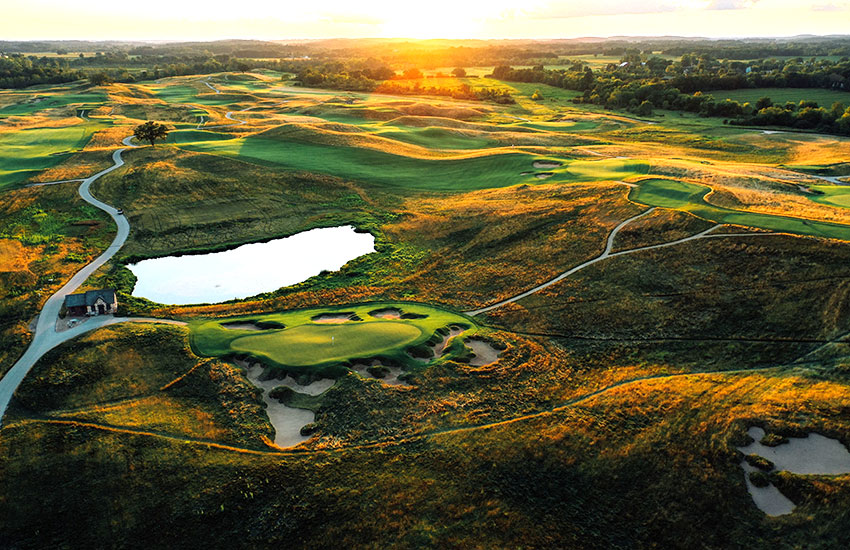 Voted the 9th Best Public Course in the U.S. by Golf Digest, one visit to Erin Hills will have you anxious to return again and again. But what makes Erin Hills one of the best golf courses in Wisconsin? Many agree that it's a course that balances fun and difficulty from tee to green. Thanks to its glacier-carved landscape, the natural undulations of the course make for a truly exciting round. 
5. Whistling Straits (Irish)
Sheboygan, Wisconsin
While its sister course (no.1 on our list) may be getting the bulk of the attention this week, the Irish Course at Whistling Straits is equally as impressive. Those who have played the Irish course praise the design's variety, evident in the distinct bunkering, elevation changes, and rolling greens on each hole.
Pot bunkers and wiry fescue grasses give the true Irish illusion, but lush fairways along with ponds and streams throughout offer a fresh take on the typical links design.
6. Blackwolf Run (Meadow Valleys)
Kohler, Wisconsin
The Meadow Valleys course at Blackwolf Run joins our list of top golf courses in Wisconsin thanks to its beautiful setting and genius design. The course is loaded with character and remains true to its name with sprawling meadows, deep valleys, and ravines.
Meadow Valleys is often regarded as the hidden gem of the four courses at Destination Kohler and continues to be a favorite of local and visiting golfers alike.
7. Sand Valley Golf Resort
Nekoosa, Wisconsin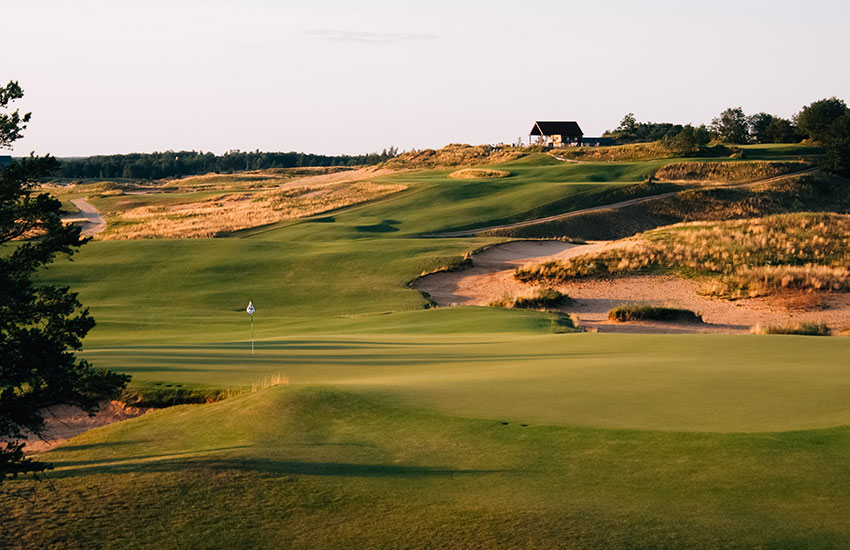 Recently opened in 2017, Sand Valley Golf Resort has rapidly joined the rare echelon of golf courses that deliver on both visual richness and quality design. The resort offers two 18-hole tracks (Sand Valley & Mammoth Dunes) and one incredible par-3 course: the Sandbox. All unique in their own right, a few repeating qualities include firm and fast playing conditions on the fescue turf and beautiful links-inspired designs around every corner. 
8. Blue Mound Golf & Country Club
Wauwatosa, Wisconsin
Designed by Seth Raynor in 1926, Blue Mound Golf & Country Club was the first course in Wisconsin to host a major tournament: the PGA Championship in 1933. The recently-renovated course occupies a stunning piece of land, with the opening holes relatively flat complemented by more dramatic elevation changes throughout the remainder of the course. 
Many consider Blue Mound "fun" to play, but as one of the top golf courses in Wisconsin, it certainly isn't a pushover. While par is almost always an attainable score on any hole, challenging green complexes (including a Redan, Double Plateau, and Biarritz) offer the perfect balance of challenge and excitement.
9. Pine Hills Country Club
Sheboygan, Wisconsin
Rolling hills carved by glaciers, dazzling views of the Pigeon River, and impeccably manicured fairways and greens – it doesn't take long to see why Pine Hills Country Club is one of the best golf courses in Wisconsin.
The opening hole, with elevation changes and a challenging green, gives an accurate idea of what to expect throughout the remainder of your round. At just 6,481 yards from the back tees, length certainly isn't a challenge here. But small, undulating greens are where your scorecard may see a few more strokes.
10. Geneva National Resort & Club
Geneva, Wisconsin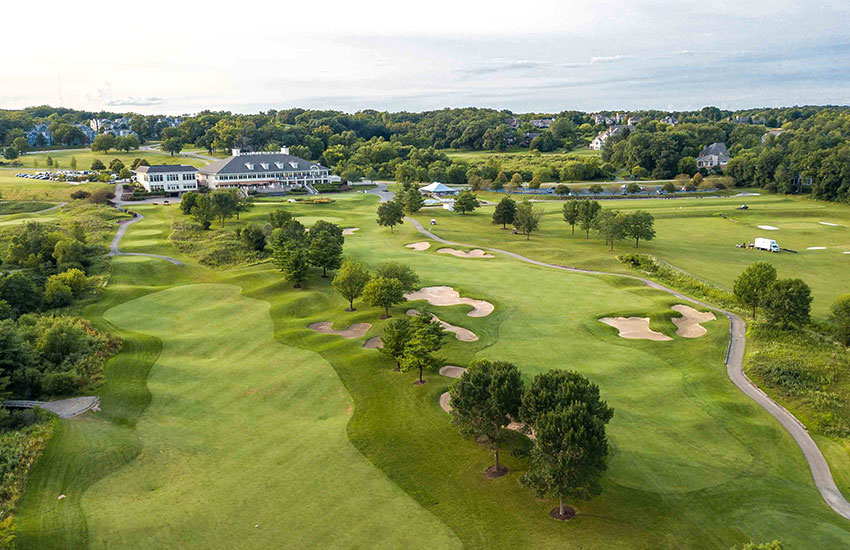 As one of the top golf courses in Wisconsin, Geneva National Resort & Club remains a popular destination for those planning a golf vacation to the midwest. The semi-private club, occupying a stunning landscape along the shores of Lake Como, offers 54 holes of world-class golf. With designs by Palmer, Player, and Trevino, there's something for every kind of player at Geneva National. 
---
Watching the Ryder Cup have you itching for a golf trip? There's no better spot to tee it up than the top golf courses in Wisconsin. Enjoy the journey to the first tee as much as your round when you ship your golf clubs ahead for stress-free travel. Learn more or get a free quote today.