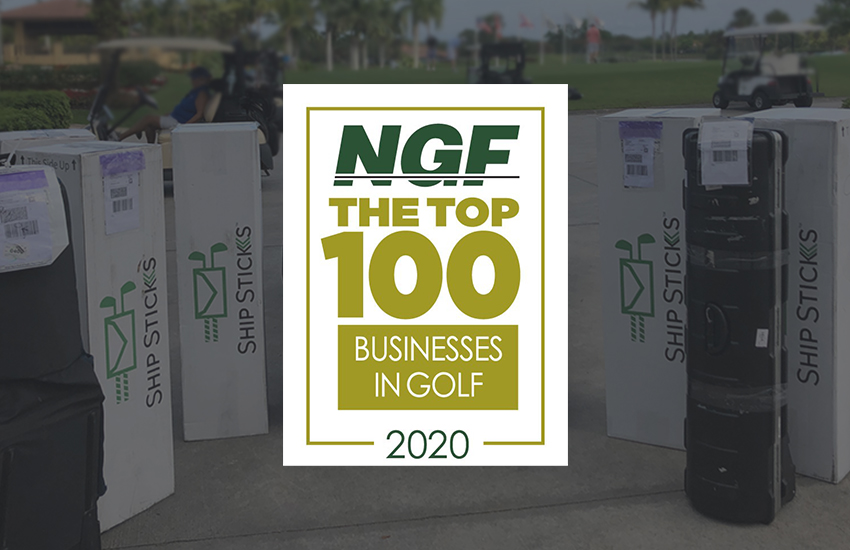 The National Golf Foundation (NGF) has recognized Ship Sticks to the 2020 edition of the NGF GOLF 100.  The NGF GOLF 100 honors -U.S.-centric companies, organizations, influencers, and associations who influence the game of golf for consumers and facilities.
About the NGF Golf 100 List
The NGF GOLF 100 is a prestigious list of golf companies broken down into sectors. The biennial list is carefully analyzed and selected by NGF editors and trusted experts in the golf industry. In 2018, the inaugural NGF GOLF 100 list was released, making Ship Sticks a back to back recipient of this honorable recognition. 
How it's Organized
The eight sectors that make up the NGF GOLF 100 are:
Course Management

Equipment

Media and Technology

Apparel and Accessories

Retail

Turf and Course Suppliers

Associations and Organizations

Miscellaneous
Ship Sticks offers a niche service, placing us in the Miscellaneous category with other specialized companies.

Criteria to Meet
"A variety of criteria were considered in creating the NGF GOLF 100," said Joe Beditz, President and CEO of NGF. Beditz elaborates on the criteria by saying, "…while revenue and growth rates received significant consideration, other factors are assessed."
Other measurable factors are:
Influence/Clout 
Contribution To The Growth & Vitality Of The Game 
Prominence
Innovation 
Leadership (in the sport and in the miscellaneous category)
Social Good
Because of our ongoing efforts to contribute to the game, we are proud to meet the threshold requirements for every criterion.
Final Thoughts
As a company of golfers, we at Ship Sticks understand first-hand the impact that our service has had in the golf industry. We are revolutionizing the travel experience for golfer's around the world. Which lives up to our daily mission to increase the number of rounds played annually.
Customers can ship their bags stress-free directly from the comfort of their home, business, country club, resort, and hotel straight to their final destination. 
"Being recognized for the second time as one of the Top 100 Businesses in golf is an extreme honor and accomplishment," said Nick Coleman, CEO of Ship Sticks."
Coleman goes on to say, "Our ability to continuously adapt to the needs of our customers and 5,000+ partnered facilities validates our daily contribution to grow the game." 
---
There is no doubt that Ship Sticks will continue to prove its spot on this biennial list. We are always working on exciting new features to enhance the customer experience on our website and iOS app. We look forward to being part of the NGF GOLF 100 for years to come.
To read more about Ship Sticks and the importance of the business in the golf industry, click here.