Ship Sticks and Forbes, Inc.
After testing out the service, Forbes contributor and avid golfer, Larry Olmstead, was compelled to share his Ship Sticks experience with the thousands of people who read Forbes every day. Larry's experience with Ship Sticks is one shared by countless other golfers who have long sought an easier way to ship their golf clubs. We are so delighted to have the ability and opportunity to help golfers enjoy a round wherever their favorite course may be.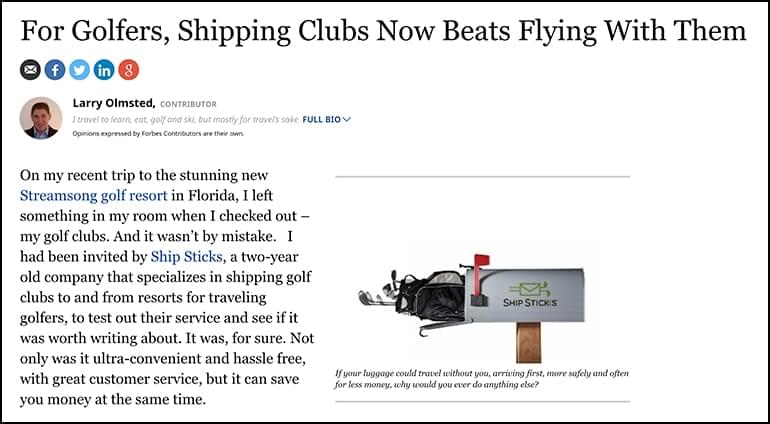 While Larry did not receive any special treatment from Ship Sticks—treatment above and beyond what any regular Ship Sticks customer would receive—he was incredibly impressed with how straightforward and efficient the process was. Some of the points that most impressed him were:
Price: Even though Larry was shipping his golf equipment from New York to Pebble Beach in California, the price was $59, which is significantly lower than Ship Sticks's largest competitor. Ship Sticks commands massive shipping discounts with both UPS and FedEx, which nearly always makes shipping through Ship Sticks a better deal than checking your golf bag with an airline and hauling it yourself to your club or hotel.
Upgraded Services: Ship Sticks tracks your luggage scans as it travels to its destination. A missed scan is noted immediately, and Ship Sticks quickly contacts the carrier to make sure that the luggage will arrive on time. Even upgrading your service from three-day to two-day at Ship Sticks' expense if necessary.
Ease of Service: Simply print shipping labels from your printer, affix them to your golf bag, and leave them to be picked-up from your home, office, club, or hotel.
Greater Attention to Detail than the Airlines: Ever have an airline send your luggage to vacation in Hawaii while you were waiting to golf somewhere else? Larry has. Ship Sticks' attention to detail, including tracking scans and immediately responding to missed scans, means that your luggage shows up where and when it's supposed to.
Working Relationship with 92 out of 100 of Golf Digest's Top 100 Courses: These resorts, public or private, have the Ship Sticks system built in and can "print labels and schedule pick-ups automatically." Convenient and efficient for avid golfers who travel.
What Does Larry Olmstead's Experience with Ship Sticks Mean for You?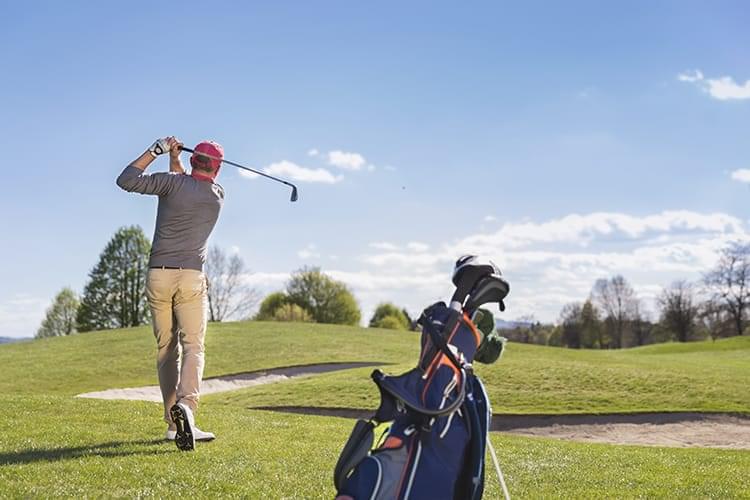 Does it sound like Larry Olmstead got VIP service? Sure, but you'd be wrong. Ship Sticks provides the same quality service for every customer— not just ones who might write nice things about us on an award-winning international online business magazine. What Larry experienced is what you will experience: convenience, efficiency, attention to detail, and the joy of having your golf bag show up exactly where it's supposed to, on-time.
Ship Sticks strives to ensure each customers' experience is as smooth and fulfilling as Larry's. Now that you've heard Larry's story get a quick quote before your next golf adventure.