Randy Myers is the Director of Golf Fitness for the Sea Island Golf Learning Center. He also serves as the Director of Nike Golf Performance Worldwide and has over 20 years of experience as a trainer on the PGA Tour. His students have combined for over 100 wins worldwide and include the likes of Davis Love III, Dustin Johnson, Jonas Blixt, Kyle Stanley, David Toms, Brandt Snedeker and Zach Johnson, among many others. This past week we talked to Randy and he shed a little bit of light on the current state of fitness in professional golf.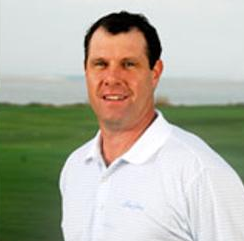 How did you get into the golf fitness profession?
I actually got pretty lucky. I wrote my masters thesis on golf fitness in 1990. I kind of fell in love with biomechanics and 3-dimensional training. I originally planned on getting into strength and conditioning for football but I realized at the time that no one had really published any kind of fitness related literature for golfers so it kind of dawned on me to try my hand in the sport, and as it turned out, doing my postgraduate work at Penn State turned out to be kind of a blessing.
So you're kind of a pioneer in the field?
Well I've been called "The Grandfather" of golf fitness and I'm only 49 but right now I feel a lot older.
Who was the first professional (or big name) golfer you worked with?
Well I got fortunate again right there actually. Gary Player was my very first client. It's funny, when I got the call from Gary asking me to help him out I thought it was one of my college buddies pulling a prank on me but sure enough it was Player and we gelled immediately. He's a great role model.
After that I was fortunate enough to work with guys like Trevino and Hale Irwin and some of the other greats. Then Jack Nicklaus actually came to me and wanted to start a tour for developmental players which is now the Golden Bear Tour and that's when we started working with younger players.
You've had the opportunity to work with a number of top tour pros including Dustin Johnson, Davis Love, Zack Johnson and Brandt Snedeker. In your opinion, what is the biggest difference in terms of fitness between a professional golfer and a very good amateur golfer?
Well I would say that there are two things.  First and foremost, all of the best players in the world have been assessed as having "excellent" flexibility or above. We give 15 different assessments and almost all of these guys are well above average in over half of them. Things like shoulder flexibility and hip rotation are extremely important. You can be a very good golfer and have marginal fitness but for the most part, all of the best players in the world score in certain areas very very well.
The other thing that's important is to be symmetrically flexible. A guy like Boo Weekly is a perfect example. He's not super flexible but both sides of his body are perfectly aligned. Kind of like when you gauge the pressure of your tires and all four have the exact same reading. Everything in their body measures exactly equal.
Twenty or thirty years ago strength training wasn't a part of golf at all. Are there still a lot of guys on tour who have that attitude? Come in to the clubhouse have a few beers, eat whatever they want, no exercise and then go out and play the next day, or would you say most have adopted some type of routine?
It's not even close anymore. Way more players are leaning toward the side of fitness. I was at Merion last week in a hotel gym working with a lot of players during the tournament. Justin Rose went through a two hour workout before he went out and played his final round on Sunday. You have to realize that these guys are playing for money and for majors and they know that everyday that they train, they're gaining an edge on their competitors.
As a fitness professional, in what part of the body do you see the most golf injuries occur and why do you think they occur there?
Well you know historically back injuries have been common in golf but you don't even see that as prominently anymore. I'd say that today there's a lot more impact on the neck, particularly with the speed that these guys are swinging at. They're trying to keep their head still while they rotate their spine and it puts a lot of stress on the vertebrae. Then you also get into nagging injuries, kind of like the elbow injury that Tiger Woods is dealing with now but for the most part, injuries occur from rotation of the big muscles.
Speaking of Tiger Woods, what do you make of some of the injuries he's had in recent years?
I see Tiger a lot and I know he's got a good workout regimen going. He swings at such a high velocity and over time that would put a lot of stress on anyone's body. He knows his body better than anybody and he's done a good job of staying in shape. It's truly shocking what he's been able to accomplish throughout his career. It's because of guys like him and Gary Player and Greg Norman that fitness has become commonplace in the game of golf.
Do you ever have someone come to you that's simply too young to get started on a strength training routine? What age would you recommend that someone wait until they begin one?
That's never really been an issue. The improvements in technology have been so good that now you can use a wide variety of tools to help young players with their fitness. Things like medicine balls, elastic bands and weighted clubs have all helped. It's better for women to get started at a younger age because they develop faster than men. For boys it's safe to start body weight training at around 13 or 14 years old. We keep a very close eye on that type of thing and we know when a player needs to get stronger to become a better golfer and also how to go about getting them stronger.
In terms of exercising and working out for golf, what do you think the biggest misconceptions people have or the biggest mistakes they make when lifting weights?
I think there's two main things. The first is that young players don't realize how individualized a workout program has to be for golf.  Some players need to do one exercise to every three stretches and others need to do one stretch to every three exercises, it all depends. You get these people that say "Well, I need to get in shape for golf" but they have no idea what to do, and if you don't know what you're doing you're probably hurting yourself more than your helping.
The second thing I don't think most people understand is the concept of periodization. If you're going to play three straight tournaments, you're not going to lift that much weight. You might do a lot of stretches and cardio exercises but you need to know what to do, how to do it and when to do it in order to peak for certain events. Pro players have very strict regiments. For them it's both a mental and physical process and it's very methodical.
Last Question. There's been some talk about this in the news over the past few months, especially with Vijay Singh, but do you think that it's even necessary for the PGA Tour to test players for the use of performance enhancing drugs, and if so, in what way could they help someone's game?
I honestly don't believe that PED usage is an issue on the PGA Tour. In 25 years of working with professional golfers, I've never had someone that I even remotely suspected was using any kind of performance enhancing drug. A lot of guys don't know the difference between a snickers bar and a protein bar. They rely on us tremendously to monitor their diets and help them understand what's best for them.
The best players in the world assemble teams of caddies, trainers and agents that they know can help them succeed. I just don't think it would be possible for these guys to do something that violates their integrity without someone else on their team finding out about it. There's too many guys involved in the process. There may very well have been players in the past that have tried it but for the most part the PGA Tour is extremely clean.
To answer the second part of your question, you never know if there's a benefit to using them, there might be. You see guys in other sports break down after they go off of PEDs but I don't think that golf, being a long duration sport, would be as affected as other more physical sports by these drugs. These players know what they need to do to get their body in shape to play and it doesn't involve illegal substances. I don't think there's an issue with PEDs in golf at all.
To contact Randy or the Sea Island Golf Learning Center you can visit the website (http://www.seaislandglc.com/) or call them at 1-888-Sea-Island.