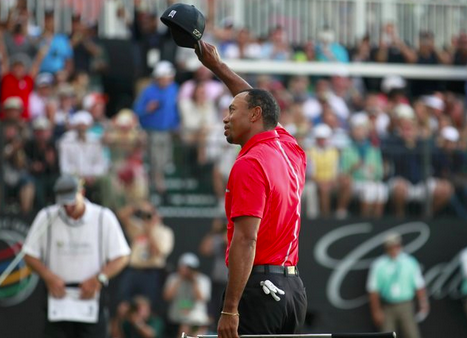 At this point last year, Tiger Woods had won only one sanctioned PGA Tour event (The Arnold Palmer Invitational). It was the first since his marriage scandal broke in November of 2009 (a stretch of 923 days).
This year, he's already won four times.
While we saw glimpses of Tiger returning to glory throughout the course of last year, his game has undoubtedly improved over the last 12 months.
Arguably the biggest strides in his game have come from 100 yards and in.Last year, many experts criticized Woods for getting too steep on the downswing with his shorter clubs. The result was poor distance control and an overall inability to score.
This year, he's clearly ironed those issues out. With a record 27 birdies at Doral and a 2nd overall rank in Birdie Average among tour players this year, his wedge game hasn't been nearly as much of a liability.
Another reason Tiger's had so much success up to this point in the year has come from his ability to completely eliminate one side of the golf course (a tool that all players desire to possess).
In the past, Tiger's biggest miss has been a hook, particularly with his driver. Unfortunately for him, a hook produces topspin and in many instances his drives ended up so far left that his approach shots were nearly unplayable.
Not only did Tiger have to play a great deal of shots from difficult positions last year, his fear of going left hurt the most important thing he could possibly have, his confidence.
Since his coaching switch to Sean Foley in 2009, we've seen Tiger favor a left to right ball flight with his driver and he's finally seemed to have perfected it. Though all his drives don't end up in the fairway, he can manage his misses because he knows that he's effectively eliminated the entire left side of the hole.
The last question mark coming into this season for Tiger was his putting. For nearly 15 years, he was known for his unbelievable ability to make the putts he shouldn't make and not miss the putts he shouldn't miss.
The past couple of years this hasn't been the case and with a quick tip from Steve Stricker before he teed off at Doral in the WGC-Cadillac Championship, Tiger certainly gave us some indication that he might be returning to the form that won him so many tournaments throughout the course of his unmatched tenure as a professional. He's now No. 1 on tour in putting from 15 – 25 feet.
Woods certainly won't win every tournament this year but from what we've gathered in the events he has played, he's certainly on track to winning more than anyone else; and maybe inching a little bit closer to Jack's record of 18 majors in the process.