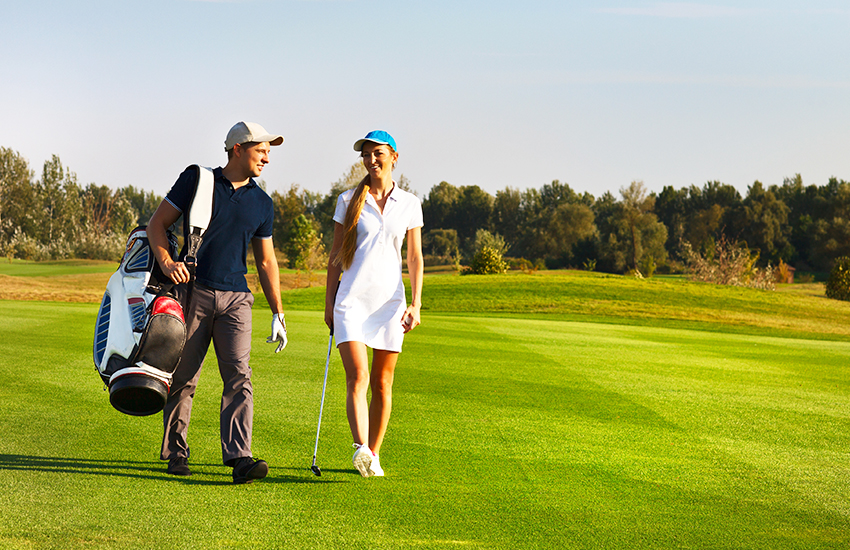 It happens. You're getting ready to check your bag for your flight and they notify you that it weighs too much and you're going to need to pay a hefty fee. So, you opt to wear three shirts and swap your light sneakers out for those heavier dress shoes. It gets even trickier when it comes to shipping golf clubs. Ship Sticks' goal is to make golf travel simple. But how much does it cost?
In general, the pricing of shipping your clubs depends on a variety of factors. Luckily, Ship Sticks has a modest base rate of $44.99 for certain ground shipments. However, you could be losing a fairway load of money by lugging your golf bags through an airline carrier instead. Take a look at how the figures add up.
4 Factors that Contribute to Golf Club Travel Costs
Bag Size
A golf bag equipped with clubs, balls, and accessories averages around 20 lbs or so. However, if you typically play with a cart bag instead of a carry bag, you may be looking at a bag that is upwards of 35 lbs. While your bag may fall within the 50-lb. weight limit of most airlines, many carriers count this as one of your checked bags. That means extra bag fees are still in order. With Ship Sticks, we offer size ranges allowing you to choose your bag size according to the weight of the bag.
Hidden Airline Fees
With fees being the same as checked bags for most airlines, you may not run into an issue here. But every so often you'll run into a random snag. For example, American Airlines treats your golf bag like just another checked bag when flying most places, with the exception of traveling to Brazil. You can expect to be charged around $42.50 if you are traveling to, through or from Brazil. Some airlines have these types of stipulations embedded in their baggage guidelines. With Ship Sticks, there are no hidden fees. Want insurance? Ship with us and we'll provide you with $1,000 complimentary, allowing you to purchase up to $3,500.
Switching Airlines
Airlines, like JetBlue, demonstrate that you can face added fees if your travels include switching airlines during your journey to your final destination. Even though they present you with affordable baggage options, they may not apply due to Department of Transportation (DOT) regulations. There is no switching with Ship Sticks. We provide real-time tracking from pick-up to delivery of your clubs, providing peace of mind that your clubs are in good hands throughout the entire shipment process.
Hard-Sided Traveling Case
Airlines require a traveling case for your golf bag. While most don't care if your golf bag container is hard or soft, all airlines state is that they won't be liable for any damage done to your clubs in a soft-sided travel bag. That means paying over $100 for a hard-sided case to protect your clubs. With Ship Sticks, you can forget shipping in your travel case by choosing to ship your clubs directly in a box. Just be sure to safely pack them up!
Want more information on shipping golf clubs?
We want to make your golf travel as seamless as possible! You can schedule shipping golf clubs at any time with Ship Sticks. So, read up on our services and schedule your next shipment today!
Also, be sure to follow Ship Sticks on Facebook,  Instagram, and Twitter for tips, behind-the-scenes action, and golf inspiration.