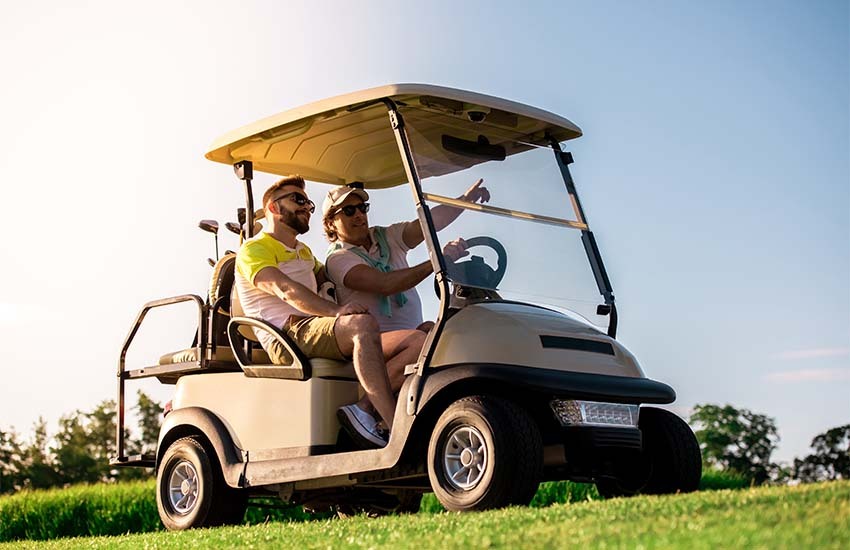 There's nothing quite as fun as a buddies golf trip. For many, it's the one time a year you can let loose, drink for the better part of the day, and win (or lose) a few bucks on the golf course. But, before you can reap the rewards of a perfectly planned golf trip, you have to actually do the planning.
Some travelers like to have their itinerary broken down by hour with each day meticulously planned. Others prefer a more last-minute approach. And in our several years of golf trip experience, we've found the ideal planning method is a combination of both.
Whether you're the head planner of your upcoming buddies golf trip or simply along for the ride, we've gathered a few easy ways to keep everyone in your group happy.
6 Tips for a Perfect Buddies Trip
1. Plan some downtime
You may feel the need to plan as much golf as possible on your buddies trip. It's easy to be overly ambitious and plan for 36 holes each day. But, forced golf leads to burnout.
To get the most out of your golf vacation, consider one day of 36-hole golf with the rest reserved for one round each day. Experienced golfers recommend a late-morning round for ample time in the A.M. for a hearty breakfast and plenty of time in the evening for extended fun. In fact, many golf hotspots offer several other attractions like theme parks, theatres, and beaches that you can enjoy after your round. 
2. Mix up the competition
Competitive strokeplay is a great format for a round or two on your buddies trip. But, you can always mix up the competition with a round of match play, better ball, scramble – even a skins game! For formats that require a two, three, or four-person team, you can change the pairings each day, too.
3. Be upfront with costs
To ensure you're staying within bounds of everyone's budget, ask each individual what they would be comfortable spending before you start planning. Once you have a final number in mind, we recommend adding on a few extra hundred dollars to account for emergencies, an extra round of golf, etc. After all, it's much easier to give back money than to ask for more.
If at all possible, consider placing all charges on one card. Splitting checks and dividing total amounts due can be hectic in the moment. So, wait to worry about it until you get home.
4. Look for package deals
To simplify the booking process, a golf package is a great place to start. Many resorts offer 'Stay & Play' packages that combine tee times, greens fees, accommodations, and extra goodies all in one price. Not only will it make it easier to book everything in one place, but packages are often a great way to save additional dollars – especially when traveling with a group.
5. Ship ahead
It always seems like one person's clubs are lost by the airlines. So, don't let your buddies trip be ruined before it even begins. Use Ship Sticks to ship your golf clubs and luggage ahead of your arrival. If you're traveling in groups of eight or more, you may even be eligible for a group trip discount. Learn more about how to properly pack your golf clubs and attach your shipping label to a soft travel case, hard case, or box.
6. Delegate
If you've been designated the leader of your group, don't feel burdened by all of the planning! Delegate tasks to other members of your group. While you research tee times at your intended destination, ask someone else to research accommodations and another to scout out potential dining options. It'll make the planning process easier on you and will allow other members of your group to feel more involved.