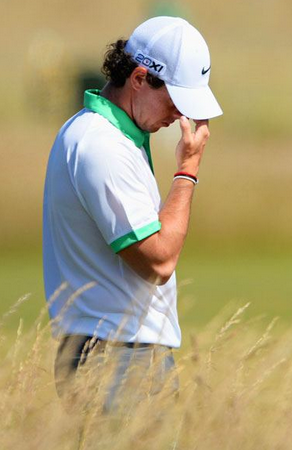 After a long and disappointing campaign, Rory McIlroy's year has finally come to an end, and to him, it probably felt like it couldn't have come any sooner.
Fresh off a breakthrough season that included four wins, a major victory and a spot atop the Official World Golf Rankings (OWGR), McIlroy was poised to show everyone that he belonged in the same conversation as guys like Tiger and Nicklaus. But after a less than impressive performance in nearly every tournament he entered, he'd probably like to put all of 2013 behind him.
After setting the bar so high in 2012, McIlroy's struggles opened up the door to quite a bit of criticism. After signing one of the most lucrative endorsement deals in the history of sports (with Nike), expectations soared. As with any endorsement deal, Rory was required to change his equipment and while his poor showing in the first few tournaments of the year were chalked up to him getting use to his new clubs, it appeared that he had much bigger problems.
In March, McIlroy took a lot of heat when he walked off the course in the Honda Classic (a tournament he won the year before). His reason for withdrawing — a toothache. Rory would later publicly state that the reason he left the tournament was due to mental frustration and that if he had it all to do over again, he would have continued playing.
After poor finish after poor finish, the criticism continued as the media began attacking Rory's work ethic, claiming that he was spending too much time with his girlfriend and not enough time working on his game. Although we may never know what was going on in his personal life this year or how much it was affecting his actual game, one thing is for sure — McIlroy simply couldn't score.
While the early struggles after his change in equipment were expected, Rory's biggest struggles came on the green, which is ironic because the only club he was allowed to keep in his bag after signing his endorsement deal with Nike was his Scotty Cameron putter. When he did hit the ball well, he couldn't make birdies and when he didn't hit the ball well, he couldn't make pars.
For a promising young talent with two majors already under his belt, a season in which he could only muster one top-5 finish is rather alarming, and whether it was his game or his personal life that caused his poor performance, we may never know. Seasons like this have happened to some of the best golfers in the world (including Tiger) and if one thing is for certain, it's that Rory McIlroy's career isn't even close to over.
Most 24 year old professionals are struggling to even keep their tour card let alone add a PGA Tour win to their resume, and in the coming years, it's highly likely that we'll continue to see Rory add to his already impressive resume.