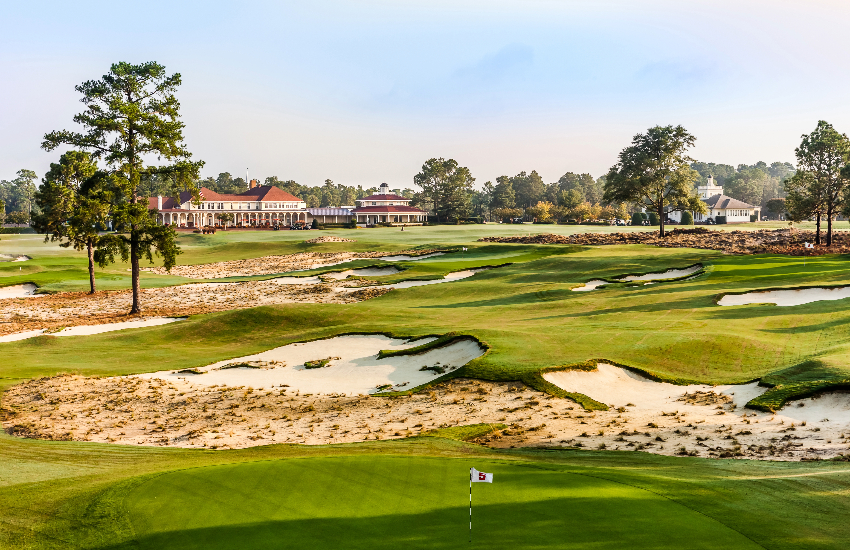 Nestled in the heart of North Carolina's Sandhills region lies a golfer's utopia, Pinehurst – a place where the echoes of golf history resonate through its rolling fairways and every stride feels like a step through time itself. This hallowed ground, celebrated as the "Cradle of American Golf," beckons golf enthusiasts from near and far.
For golfers seeking the ultimate golf-centric weekend getaway, Pinehurst is the undisputed destination of choice. Here, amidst the backdrop of towering longleaf pines and whispering Carolina breezes, you'll find not just golf courses. With every swing, you'll follow in the footsteps of greats who have walked the fairways, leaving their mark on the very turf beneath your feet.
But Pinehurst's allure extends beyond the greens. Amidst rounds of championship golf, you'll discover culinary delights that tantalize the taste buds, cozy accommodations that provide respite after a day on the links, and a variety of activities that will keep you immersed in the Pinehurst glamour all week long.
Here, golf isn't just a pastime; it's a way of life. So, if you're ready for an extended weekend steeped in golfing splendor, Pinehurst awaits you. 
Your Itinerary for a Long Weekend in Pinehurst
Day 1: Your prelude to Pinehurst…
Breakfast
Whether you're in search of the perfect morning croissant, a cozy spot for a coffee and conversation, or a selection of mimosas to commence your vacation, Agora Bakery & Cafe (conveniently located in the Village of Pinehurst) delivers on all fronts. We suggest savoring their bacon, egg, and cheese biscuit alongside a freshly baked cinnamon roll to begin your day on an especially tasty note.
Morning Activities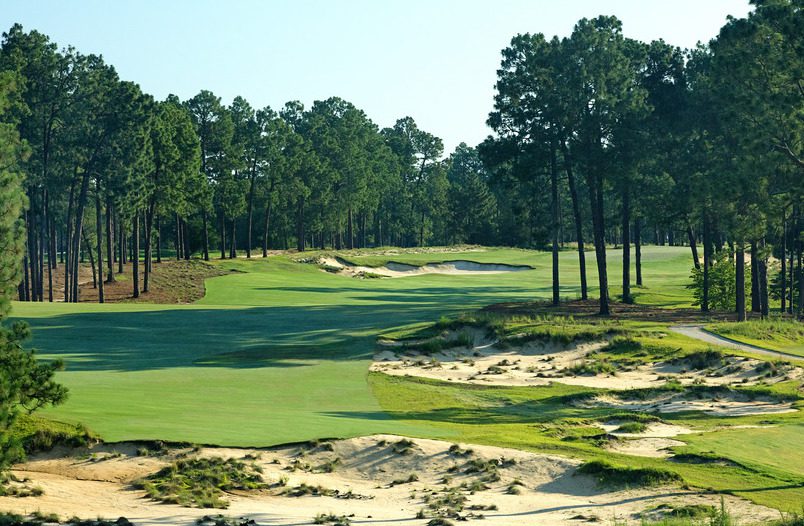 While we understand the allure of Pinehurst No. 2, we recommend starting your golf experience with a round on the equally legendary Pinehurst No. 4. Although it may not command the same level of fame, many players find themselves favoring No. 4 over No. 2. 
Following a redesign by Gil Hanse, No. 4 showcases a masterful reimagining of a classic Pinehurst layout. As you step onto its meticulously manicured fairways, you'll find yourself surrounded by stunning landscapes and rolling terrain, all expertly woven into a challenging yet eminently playable course. Pinehurst No. 4 tests your strategic prowess with its well-placed hazards and undulating greens while providing a visual feast of North Carolina's natural beauty.
Lunch
If you've managed to resist indulging in hot dogs on the course, we suggest visiting The Villager Deli for a delectable lunch. This casual dining spot is all about generous portions and fresh ingredients. What more could you want?
Afternoon Activities
Up for some shopping? The Village of Pinehurst, and neighboring downtown Southern Pines, features boutique shops, art galleries, and souvenir stores. Take a leisurely walk through the quaint streets and pick up some unique finds.
Dinner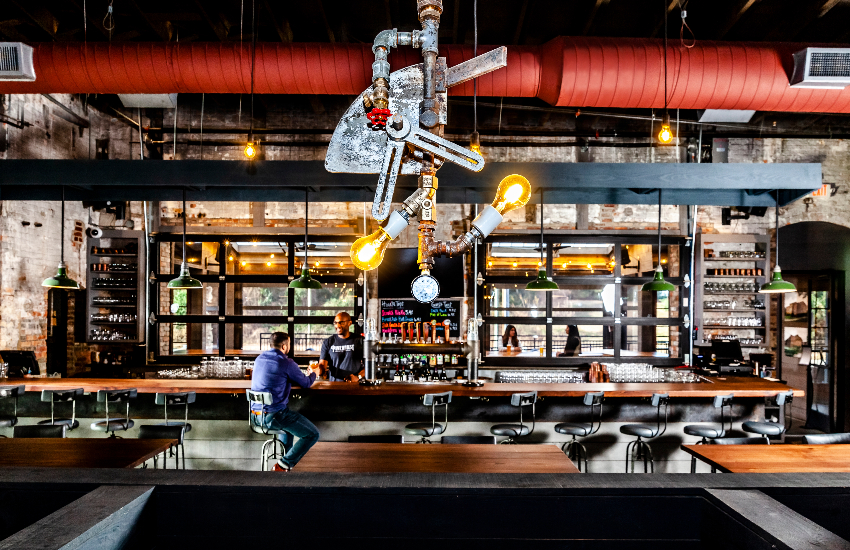 After a fantastic day of golf and shopping, Pinehurst Brewing Company is the perfect spot for a well-deserved wind-down. Here, an exceptional array of craft beers brewed on-site await your discerning palate. Complementing the libations is a sumptuous smokehouse menu, offering pulled pork, beef brisket, ribs, and chicken – all smoked on-site. 
Where to Stay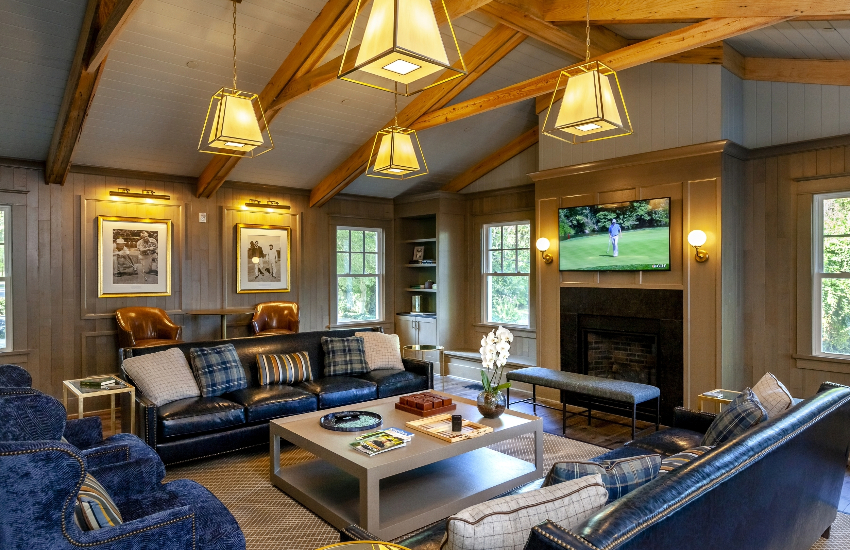 Pinehurst boasts a diverse range of accommodations, from enchanting inns to luxurious grand hotels. To ensure you enjoy the full spectrum of experiences, we're excited to offer lodging recommendations for each night of your stay.
To round off your first day in Pinehurst, consider staying at The Manor Inn –  just a 5-minute stroll from the brewery. This historic gem received a fresh makeover in 2019, and now offers a delightful blend of comfort and charm in its cozy rooms. And if you're up for a nightcap, don't miss The Manor's North & South Bar, where you can explore an impressive collection of over 100 bourbons, whiskeys, ryes, and more.
Day 2: The pinnacle of Pinehurst…
Breakfast
Day two is here, and it's shaping up to be filled with excitement. And for a day like this, you can't go wrong with a hearty breakfast at the local favorite, Pinehurst Track Restaurant. It's just a hop, skip, and jump away from the Pinehurst Clubhouse, right on the outskirts of the Pinehurst Harness Track.
Now, this spot might look like your typical mom 'n pop joint, but don't let its unassuming appearance fool you. It's a hidden gem that manages to draw in quite a few professional athletes. And let's not forget about their world-famous blueberry pancakes – they're an absolute must-try.
Morning Activities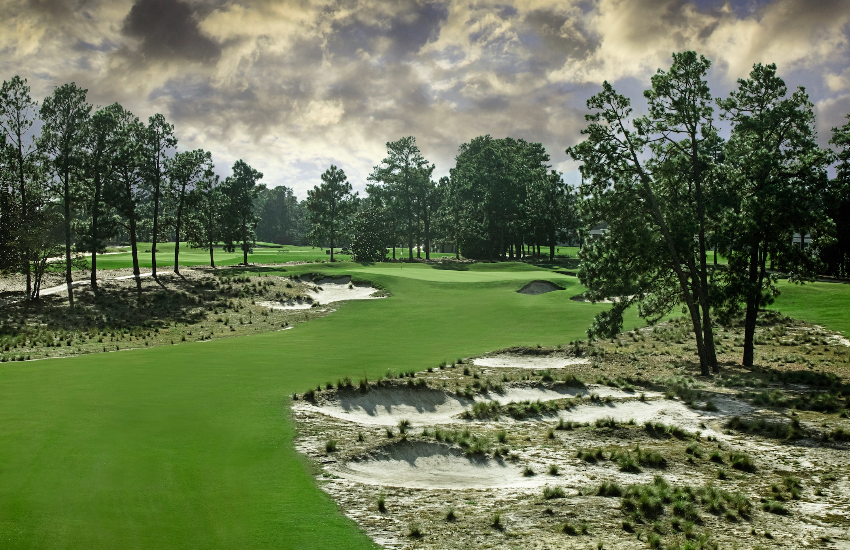 Ladies and gentlemen, the moment we've all eagerly anticipated has arrived – it is now time to step onto the hallowed fairways of Pinehurst No. 2. Considered the crown jewel, Pinehurst No. 2 is a storied masterpiece, conceived by the revered designer Donald Ross. The course's contours are a canvas, every rise and fall, every undulation, a deliberate stroke in Ross's artistic vision. 
The greens, legendary for their vexing intricacy, demand a golfer's utmost precision. Ross's diabolical contours, known affectionately as "Turtleback" greens, are the crucible where champions are forged and pretenders humbled. 
One cannot help but be profoundly moved by the gravity that envelops you when playing No. 2, where the indelible memories of Payne Stewart's triumphant fist-pump in '99 and other iconic moments reverberate through your mind. It is here, amid the rolling fairways and unforgiving greens, that golfers find not just a course but an enduring connection to the essence of the game itself.
Lunch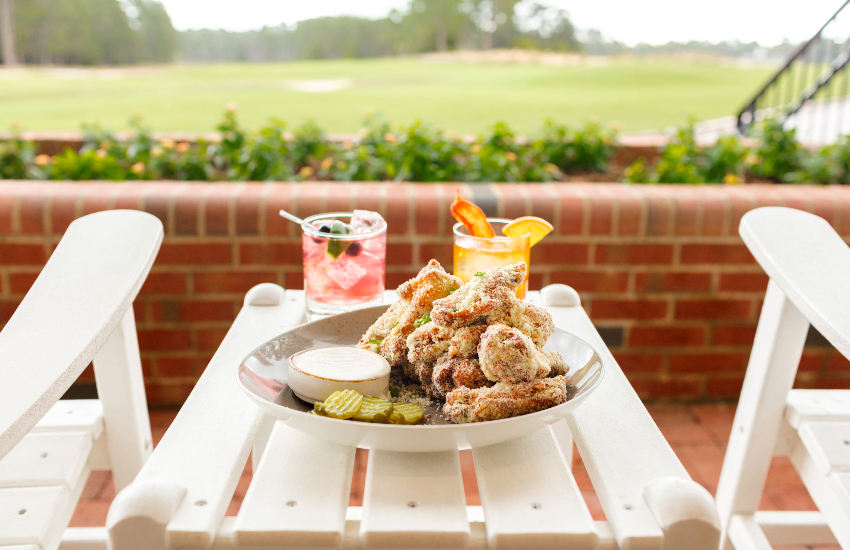 If the allure of No. 2 still holds you in its grasp following your round, rest assured, we foresaw this desire. Which is why your enticing lunch option for day two will take you to The Deuce – one of the preeminent 19th holes in the world of golf. It's thoughtfully situated behind the 18th green of No. 2 and offers indoor seating along with an expansive seating section on the veranda – the perfect vantage point to watch incoming golfers concluding their rounds. Between groups, savor an ice cold North Carolina microbrew and tasty pub fare. It's the perfect setting for sharing tales of remarkable shots and near-miss putts, reliving the highs and lows of your round, and swapping stories and laughter that transcend the scorecard.
Afternoon Activities
Following your round on No. 2, pamper your body and spirit with a visit to the Spa at Pinehurst Resort. Here, a world of relaxation and rejuvenation awaits. Immerse yourself in a soothing massage, refreshing facials, and an array of wellness treatments.
Dinner
An extraordinary day warrants an equally exceptional evening, and what better way to cap off day two than with a visit to Ashten's Restaurant & Bar in Southern Pines? Ashten's menu showcases a harmonious blend of locally sourced ingredients and innovative culinary techniques, resulting in dishes that are both familiar and delightfully inventive. Whether you're savoring a perfectly grilled steak or sipping a thoughtfully crafted cocktail, Ashten's promises a memorable dining journey that celebrates the rich flavors of the region while embracing modern gastronomic trends. 
Where to Stay
The Carolina Hotel, affectionately known as "Queen of the South," is more than just a place to lay your head. It's a vital chapter in your Pinehurst golf story. As you step into its grand lobby, you'll instantly find yourself transported to a bygone era defined by timeless charm, refined sophistication, and the quintessential warmth of Southern hospitality. Boasting 230 Four-Diamond rooms with recently refurbished interiors, The Carolina Hotel ensures your comfort is second to none, while its unwavering commitment to service perpetuates a legacy of excellence. And don't forget to capture a few photos on the hotel's front lawn, where iconic bushes artfully spell out "Pinehurst."
Day 3: Farewell, fairways…
Breakfast
As you step through the inviting doors of Betsey's Crepes, you'll be greeted with a friendly smile and the irresistible aroma of sizzling bacon, fresh waffles, and – you guessed it – crepes! This quaint brunch spot is located snugly in the heart of Southern Pines and remains a favorite among locals and visitors alike.
Morning Activities
Needless to say, your visit to Pinehurst calls for some souvenirs to commemorate your time in the area. So, wander over to the resort's pro shop ready to embrace a bit of retail therapy. Here, indulge yourself with Pinehurst-branded hats, stylish polos, distinctive ball markers, and perhaps a thoughtful gift or two for those back home who long to share in your Pinehurst adventure.
Following your delightful shopping spree, venture a few paces away to Thistle Dhu, the resort's thrilling putting course, for some lighthearted competition. 
Lunch
Your final day in paradise is all about fun, and lunch is no exception! Drum & Quill, a cherished establishment in the heart of Pinehurst, is a living tribute to the age-old Irish tradition of the Public House. The heart of Drum & Quill resides in its bar, nestled within the walls of a historic 130-year-old magistrate judge's chamber. Here, the allure of over 150 spirits, the most extensive collection in the region, awaits to captivate your palate. 
Afternoon Activities
Slip off your shoes, grab your favorite beverage, and surrender to the rhythm of music filling the air; we're wrapping up your Pinehurst golf odyssey at The Cradle. Pinehurst's legendary nine-hole short course is a vibrant hub of fun. Whether you have a friendly wager to settle or simply seek a few more swings, The Cradle awaits.
Crafted by the illustrious golf architect Gil Hanse, The Cradle's appeal lies in its strategic design, featuring well-placed bunkers and greens that undulate like rolling waves. Its shorter length is cunningly deceptive, as it poses a unique challenge if your short game is a little rusty.
But what truly sets The Cradle apart is its inclusivity. Here, you're encouraged to take swings, test your mettle, and enjoy the process of improvement. Replay rounds are not just welcomed; they're celebrated. Moreover, The Cradle extends its warm embrace to the next generation of golfers, with kids aged 17 and under (if accompanied by an adult) permitted to play for free.
In the spirit of Donald Ross, whose philosophy shaped Pinehurst's golfing ethos, The Cradle stands as a testament to his belief that golf should be a pleasure, not a penance. 
Dinner & Where to Stay
As the sun sets on your Pinehurst adventure, an exceptional dining experience awaits you downstairs from your recommended accommodations for the evening, too. To conclude your unforgettable journey through Pinehurst, we propose an evening of delicious dining and a tranquil night's stay at Pine Crest Inn.
With a storied history that includes ownership by the legendary Donald Ross, Pine Crest Inn has earned acclaim for its delectable eats, welcoming neighborhood bar, intimate lodgings, and friendly staff. Here, guests even have the unique opportunity to chip golf balls into the lobby's fireplace, all within arm's reach of the bar. And if you thought chipping around the greens of Nos. 2 & 4 was a challenge, just wait until you try it indoors, after a few adult beverages, with dozens of onlookers cheering you on. 
When it's time to retire for the night, your charming accommodations await just a short climb upstairs. Adorned with Pinehurst history on the walls, they provide a cozy setting for a restful night's sleep. And before you depart in the morning, don't miss the opportunity to try Pine Crest Inn's renowned breakfast, a delicious and satisfying way to fuel up before your journey home.
Pinehurst truly leaves an indelible mark on all who visit. After all, it's not just a destination; it's a paradise for those who live and breathe the game. It's a place where your golfing dreams come to life. It's a place that extends an irresistible siren call to golfers all over the world.
So, as you bid farewell to the storied fairways and whispering pines, remember that Pinehurst awaits your return, ready to welcome you back with open arms.