New Drumlin Putting Course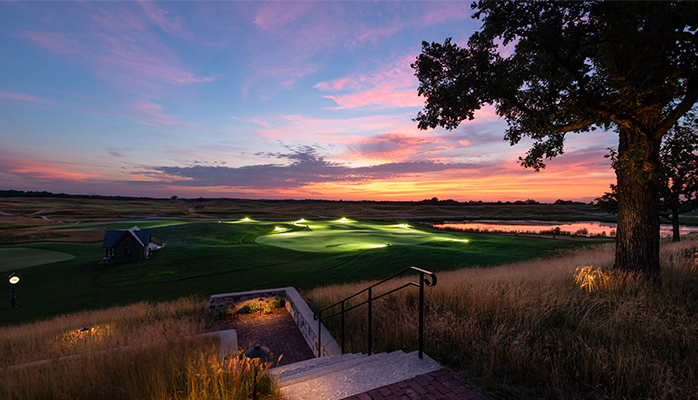 In August 2019, the Drumlin Putting Course officially opened. The new putting course is a unique way to unwind the day with your buddies. With low-profile lighting, this "miniature links", is a must-play during your stay.
1. It Played Host to the 2017 U.S. Open Championship
That's right, Erin Hills was the host course for the 2017 U.S. Open Tournament. It's one of only six public-access courses ever to have hosted the U.S. Open. They have also had the pleasure of hosting the 2011 U.S. Amateur Championship and the 2008 U.S. Women's Amateur Public Links Championship.
2. The Property Was Shaped from Glaciers
Over 10,000 years ago, the location that is now known as Erin Hills was formed from glaciers. Architects Michael Hurdzan, Dana Fry and Ron Whitten went to great lengths to move as little earth as possible so that the design complements the wonderful natural landforms.
3. It's a Walking-Only Course
Put your walking shoes on because this resort is a walking-only course. You can warm up utilizing the extensive practice facility which includes a large practice tee, two practice putting greens, and two short game greens. It's joined by 130 yards of fairway, allowing players to practice pitches of all lengths.
4. The Course Originally Had 19 Holes
A blind par 3 was eliminated, making it a true 18-hole course.  The bell used to signal that that green was clear remains, with the details of the bell providing the inspiration for the detail of their shamrock logo.
5. You Can Stay Directly on Property
Imagine, waking up to the view of the first tee, well you can! Erin Hills offers different lodging options that their guests can take advantage of when visiting. You can choose to stay in one of the five cottages each with four bedrooms and bathrooms, a common room, gas fireplace, and even a poker table. Guests can also stay at The Lodge which provides more room options ranging from a single room to a suite with three bedrooms.
6. The Short Par-3 9th Hole Is Dubbed "the Game's Shortest Par 5" by Their Caddies
It's pretty easy to not make par on this hole. Hole 9 received its clever nickname from the seasoned caddies because of how difficult the recovery shots are around the green.
7. There Are 3 Gas Fire-Pits on the Property for You to Enjoy
Who doesn't enjoy unwinding at the end of a round or after dinner? While visiting, we recommend taking advantage of the gas firepits. This is a great way to tell stories, meet new friends and just relax.
8. The Fescue Rescue Is Their Signature Cocktail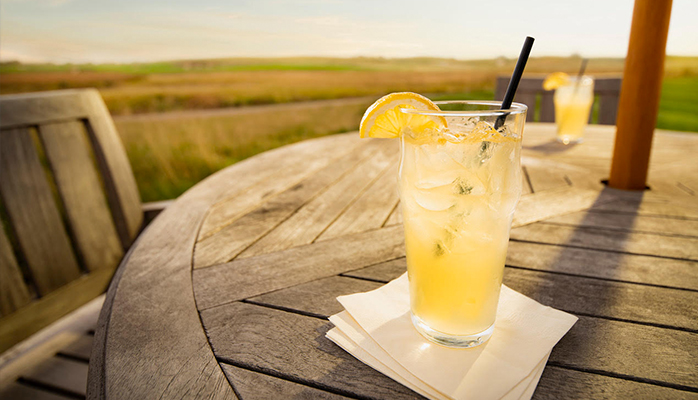 This is a must-try cocktail when visiting. It's composed of Jameson's, ginger beer, and lemonade. The drink is a resort favorite and always seems to satisfy after a round of golf. 
Traveling to Erin Hills via Ship Sticks
Ship Sticks is proud to partner with Erin Hills Golf Course. Through this partnership, sending your golf clubs and luggage to and from the resort has never been easier. It's recommended when you book a shipment here to include your tee-time or group name on your shipping label. This will help the shipping and receiving department ensure your items are ready for when you arrive or depart. Check out their exclusive Stay and Play Packages and start planning your next golf bucket list destination course today!