---
Ship Skis & Winter Gear For A Hassle-Free Experience
Travel to Your Favorite Slopes With Ease
Ship Skis is the same great service - customized for skiers and snowboarders
Golf and skiing are both sports that offer great experiences depending on the location. To enjoy the world's best golf courses and ski resorts, enthusiasts are willing to travel & bring their bulky golf bags or ski equipment.
We started Ship Skis to offer skiers the same great delivery service that our Ship Sticks customers have come to rely on. Now, you can experience the world's best ski resorts without the hassle of lugging your skis with you. Just choose your ski destination, pack your skis, and label them. Ship Skis will handle the rest. Simply show up at the resort, and your skis will be there waiting for you.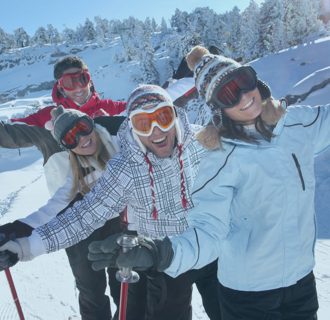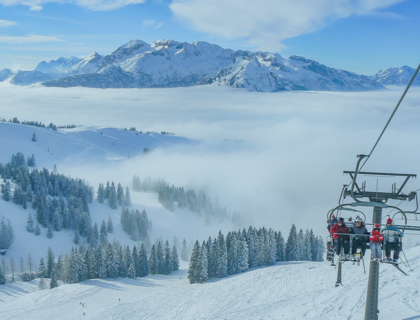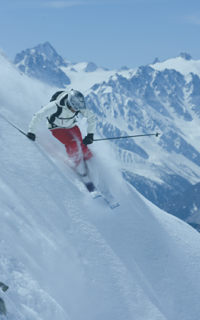 Why Use Ship Skis vs. Traveling With Your Skis
Riding new slopes is an amazing experience, but it doesn't quite feel the same when you're not using your own skis. Not being able to really lean into a turn because you don't trust your equipment can take some of the fun away. Not to mention the cost to demo or rent skis at some resorts.
The inverse, however, isn't much better. Hauling your skis and equipment to the airport and going through TSA is inconvenient, to say the least. There's also the risk that something will happen to them during your trip. No one likes that sneaking suspicion that their equipment is at risk of not being there waiting for them at their destination.
But there's a third option, shipping your skis. Gone is the process of packing all that equipment into your car. There isn't the hassle of dragging skis to get them checked.
Instead, just pack them up, schedule when you want them to arrive, ship them off, and they'll be delivered to your final destination. Skiing trips should be fun. Ship your skis there and save yourself a lot of trouble.

What Makes Ship Skis Different?
Direct-to-Destination Shipping
We've partnered with thousands of facilities to provide our customers with a seamless travel experience. For almost anywhere you want to travel, Ship Skis customers can enjoy a stress-free journey to the resort without the burden of carrying their skis from the airport.
Cost-Effective Alternative
Because of our partnerships, we're able to offer a substantial discount to our Ship Skis customers. The cost of using Ship Skis is often comparable with or even less expensive than checking your skis with an airline.
Reliability Backed By Our Guarantee
International flights often involve multiple transfers that increase the chances of your skis getting lost or damaged. With our on-time guarantee and insurance policy, you can feel confident that your skis will arrive in perfect condition. With real-time tracking, you'll always know where your shipment is during its journey.
Client Testimonials
Ship Skis makes shipping your skis, snowboard, ski boots, and gear hassle-free. But don't take it from us. Hear what our customers have to say
Check Out Some Of Our Stats




Customer Service
As a company of skiers, for skiers, we have experienced the hassles of traveling with our skis and understand how important your ski gear is to you. Our team is available 7 days a week, ready to help answer any questions or concerns you may have.