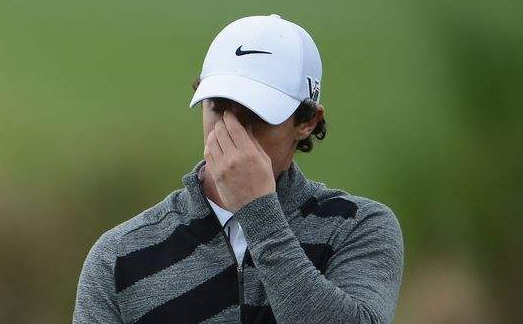 After hitting his 2nd shot into the water on the 18th hole at PGA National on Friday, Rory McIlroy put his club back in his bag, shook his playing partners hands, walked straight to his car in the parking lot and left the facility.
After grinding out an even par round on Thursday, McIlroy was clearly distraught as he walked off the course after playing just eight holes on Friday. His day, which began on hole No. 10, started out with a rather routine par.
He then followed with a double bogey at No. 11 and the wheels really started to come off. With two more bogeys, a triple and another ball in the drink at No. 18, Rory was clearly having trouble. Whether that trouble was mental, physical or a combination of both is still to be determined.
As he was swamped getting into his car, McIlroy told reporters that there was nothing wrong with him physically. "There's not really too much I can say, guys," he said. "I'm not in a good place mentally, you know?"

While his remarks may stir up some controversy over whether or not mental exhaustion is a good enough reason for withdrawing from such a high profile event, there will be even more controversy over the fact that shortly after McIlroy left the course he publicly stated on twitter and to the tournament directors that he withdrew because of a nagging tooth ache.
Unless McIlroy went on some superhuman birdie barrage on the bank nine, he would have surely missed the cut and though his toughness will undoubtedly be questioned, the fact that he said at the course his reasons for withdrawing were not physical and then issued a public statement shortly after saying just the opposite leaves many more things to come into question.
While we may never know the truth behind McIlroy's choice to withdraw, there has been some speculation over his swing and more prominently his equipment switch from Titelist to Nike. Though Rory accepted Nike's 10-year endorsement deal worth $250 million, he clearly wasn't comfortable with the equipment he was given.
After just weeks of signing the contract, Nike and Mcilroy came to an agreement that allowed Rory to use his old Titelist putter and with the current struggles he seems to be having of late, it seems he's probably wishing he could use more than that.
In three events this year, McIlroy has two missed cuts and loss in the first round of the WGC Accenture Matchplay Championship, and though it's still very early in the season, the player we saw last year in the PGA Championship and throughout the FedEx Cup Playoffs is certainly not the player we are seeing today.
Whether it's an adjustment to new equipment, swing difficulties, tooth pain, mental exhaustion or a combination of all four, only time will tell.