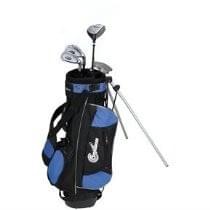 The popularity of golf has increased over the years and there is almost a new golf product being released in the market after a very short period. This makes it very difficult for one to choose the best golf clubs for beginners.
Each of the invention put on the golfing clubs is supposed to increase the control, add at least ten yards in the game and have straight shots. But why do most beginners experience serious problems while trying to better their golfing skills? The main problem is as result of lack of the idea of the best club to use when playing.
As a beginner, picking your first golf clubs should be fun and should offer little or no problem. One of the first tips to picking the right club should be checking the quality of the equipment.
You might tend to think that quality matters less for golfing beginners but this is not the truth. Using poor quality set of clubs has been the cause of many people abandoning the game every year as it makes playing golf a tough task. There is no fun in hitting the shot more than once when playing the game at any time.
The best clubs for starters does not necessarily mean that they should be the latest or most expensive in the market. It is possible to get quality clubs from the market at very competitive rates.
Top manufacturers provide quality clubs at great deals. One can look at the previous kits in the market and could offer a good game as well. The changes in the technology might not have gone far to affect the game.
When starting off, golfers should not necessarily concentrate on investing in every club that is available in the market. One could start off by buying at least five clubs until they learn to play with them.
There would be no harm in purchasing a full set of the clubs although it might not be of much help to beginners. The best golf clubs for beginners should be ones that offer the most comfort.
Some of the factors that one should consider when purchasing a golf club include:
Deep cavity back – The blades of the club might look very nice but it will only suit individuals with low figures.
The graphite shafts or the flex steel – the beginners should necessarily have the graphite clubs. They could use steel clubs for beginning. The beginners should try as much as possible to avoid the extra stiff shafts
Big faces – when using a club with a bigger face, it means fewer misses. It helps the beginner to learner to know how to get the ball straight and up.
When choosing the most suitable golf club for you, it is essential you try to avoid complications as much as possible. Following the above tips will help get the best for the game but also remember to pick something that look good and presentable.
Image Credit ooddymaxmum