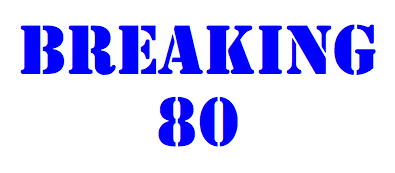 The better you get at golf, the harder it becomes to improve your game. That statement might seem confusing but it's really pretty simple. It's much easier to go from a 30-handicap to a 20-handicap than it is to go from a 20-handicap to a 10-handicap. Furthermore, it's much easier to go from a 10-handicap to 5-handicap than it is to go from a 5-handicap to a 2-handicap.
So if you're one of those golfers who's falling victim to the dreaded "plateau" effect and can't seem to shoot below 80, use some of the tips below. They'll help you get over the hump.
Eliminate Penalty Shots
Penalty shots can be "round killers". Hitting OB (out-of-bounds) is like throwing two shots out the window and hitting into a hazard can easily turn a par or a bogey into a triple or a double. If you're consistently shooting in the mid-80's, chances are you're taking at least a couple of penalty shots every round and avoiding them might be what you need to get into the 70's.
You don't need to make a lot of birdies to shoot a good score. You just need to play away from trouble and avoid big numbers. Always weigh the risk-reward and if the reward simply isn't there, play it safe. Par is never a bad score.
Avoid Three Putts
Putting seems like it should be one of the easiest parts of the game, but it's not. Three putts are something that can plague a golfer of any skill level and if you can get through an entire round without one, you've done something right. When it comes to putting, speed is far more important than direction  and if you learn how to control your pace, you won't have any of those testy 4-footers coming back for par. If you've been struggling with your putting, throw down a few balls on the practice green before your next round. Aim at a hole 3 or 4 feet away and don't stop until you make 10 in a row. If you miss one, start over. After a while, those short little knee knockers will be much easier to make.
Stay Calm and Stay in the Present
In the midst of the round of your life, it's hard not to step on to the 17th or 18th tee without thinking about what it would be like to finish up with the lowest score you've ever shot, but that's what you should strive to do. Always play one shot at a time. The more you think about the par you need to make on the next hole or the birdie you just made on the previous hole, the less concentrated you will be on the shot at hand.
Great golfers have a short memory. Whether they make a 2 or an 8, it's on to the next hole. Any shot you've already hit is over and done with, so there's no point in dwelling on it. So, if you're standing on the 18th tee and you need a par to shoot 79, don't sweat it. It's just a game. Go through your normal routine, try to relax and make a good swing.
In the words of the famous Ben Hogan, "The most important shot in golf is always the next one."