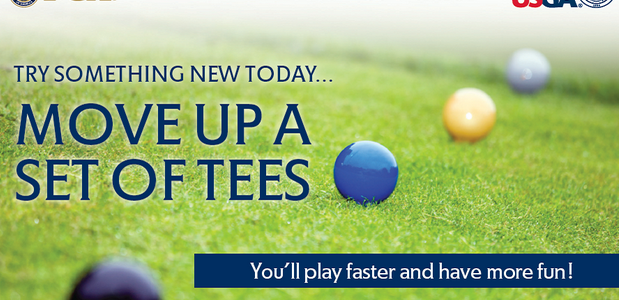 Golf courses have multiple sets of tees for a reason. They're not just there to look at. They're there to use. So use them.
Playing from the wrong set of tees can cause a number of problems, not only for you, but also for your playing partners and other players on the course as well. If you're constantly looking for your ball and hitting bad shots, your pace of play is going to be less than ideal. If you can't get a round of golf in under 4.5 hours, you're not playing fast enough.
No one likes watching someone get triple and double bogies on every hole either. For the most part, you'll play better when the people around you are playing better, so it's important to do everything you can do to facilitate that.
There are two main factors that determine what set of tees you should be playing from; the first of which is how far you hit the ball. If you're on a course that you're familiar with, you should be able to tell where you should be playing from. If you often find you need long irons or fairway woods to get to the par-4 greens in two shots, you should move up. Golf courses are designed to be played a certain way and when you don't play them that way, you're round won't be as enjoyable. You can use the distance information below to figure out which set of tees you should be playing from.
Average Drive Distance – Recommended Tees (Course Yardage)*
300 yards – 7,150-7,400 yards
275 yards – 6,700-6,900 yards
250 yards – 6,200-6,400 yards
225 yards – 5,800-6,000 yards
200 yards – 5,200-5,400 yards
The second factor that determines the length of the course you should be playing is your skill-level. Some players that lack distance can make up for it in their short game, so they can still record a reasonable score even from a deeper set of tees. However, this is rarely the case and unless you're a wizard from 50 yards and in, you should try to avoid pushing the limits.
It's always fun to try to challenge yourself and see how you fare from the back set of tees but if you shouldn't be playing from there, you're going to get frustrated pretty quickly, and that's not how golf was suppose to be played. Playing well and having fun go hand-in-hand, so "Tee it Forward" and you'll experience more of both.
*source: http://golf.about.com/od/beginners/f/bfaq_whichtees.htm